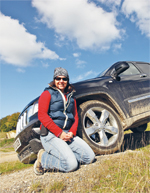 The digital era has much to be admired, but every now and then, a good old piece of paper trumps anything electronic
As I sit and write this, I am looking resignedly out at the rain pouring down in torrents and the wind whipping up round the house. Luckily, I live on a hill and have not been flooded, but I know people locally who live near rivers and who have been inundated with water; and the pictures from the Somerset levels and Worcester, where I also have friends, are just awful. Parts of Surrey and Berkshire and all along the Thames Valley are dreadful, too.
When the deluge finally stops it will still take months, or maybe years, for some to recover from this. I hope that, by the time you are reading this, some form of spring will have arrived and brought more settled weather. During the flood crisis, the emergency services, Environment Agency, AA, RAC, RSPCA and power companies have been working at breaking point, many of them wholly relying on their own 4×4 vehicles and those of volunteers. And those volunteers include the incredible 4×4 Response teams around the country, who have been working around the clock. The official services mentioned above probably couldn't do without them, and the public owe them a great debt.
I follow one or two of them on Twitter. The constant tweets from my local South East Response and those they have re-tweeted from colleagues in the battered and very bruised West Country are full of round the clock work and travelling around the country helping other areas out. The 4×4 Response philosophy isn't just about helping in your own back yard. Many of the South Eastern team have made the trek to Somerset to be of assistance. If you fancy getting involved, offering your 4×4 as a response vehicle and getting expert training in emergency assistance, then get in touch with your local team – easily found on Google. Even if you don't want to use your 4×4 for whatever reason, there are plenty of jobs that need to be done behind the scenes, such as radio control and navigation.
We wish all those affected by the recent awful weather the best of luck and huge thanks to those who have worked round the clock to help in very difficult circumstances. Get in touch now and help out; you could save a life or a livelihood.
So in other, less depressing, news; it has been announced by the Chancellor that we are going to lose the paper tax disc and all will be electronic from now on. That is good news, of course, only in that saves a bit of time trying to peel the annoying thing out neatly without tearing it. (Nigh on impossible actually…)
I always buy mine online, so no change there. The police have been using electronic detection for a while now so that doesn't change either. I, however, a while ago found that I was very grateful for having a paper disc in the windscreen. I had dropped my Jeep Grand Cherokee off at my mate's garage for its annual service and he lent me a lovely old BMW saloon to use; nothing else was available, as I had forgotten to book in advance. It was ancient and made me laugh. But it still packed a punch and I was cruising along a local highway at the national speed limit having some fun, when all of a sudden I realised there was a police car behind me.
It was right up close and flashing its lights and I thought: 'Oh no what's wrong with this old banger; what has my mate done to me?' Anyway, I pulled over and wound my window down when the handsome young copper indicated that he wanted to talk to me. "Is this your vehicle madam?" he asked politely.
"Er, no, it isn't actually," I replied nervously and explained and pointed to the garage's loan notice conditions sheet stuck on the glove compartment." What is the problem?" I asked nervously. "We have no record of a tax disc on this vehicle madam," he replied now sounding quite headmaster-like.
"Ah," I said very relieved, then smiled and pointed at the tax disc smugly stuck to the nearside corner of the windscreen. He wandered round and checked it and, yes, all in order, so he apologised, very sweetly, for taking up my time and waved me on my way.
I obviously stood out driving an old car that looked battered and bruised. So, if you are driving around in an old Land Rover, Land Cruiser, Jeep, Nissan Patrol or any other such ageing, fine, traditional off-roader, be aware that you may get picked on and, as we know, electronic systems often go wrong. So what will we do when that trusty paper disc is no longer our proof? Waste a lot of time down at the cop shop proving our innocence when they have to get online and check it, that's probably what. You have been warned!
Hils
---

Read Hils' column every issue in 4×4 Magazine – subscribe here!