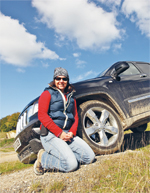 Our columnist has been on her travels again and this time not to the most obvious 4×4 friendly town, but it seems the Big Apple is indeed the city to spot 4x4s…
I've been on my travels again, to one of my favourite places when it comes to 4x4s – North America. Having been to Utah and Arizona a couple of years ago on a superb overland journey that took in some incredible landscapes and terrain, last year I visited British Columbia and marveled at the plethora of brilliant trucks encountered on a daily basis. But this time was very different, as the location was New York City. Not the sort of place that you would expect to be brimming with impressive trucks, but those busy, often gridlocked streets actually contain far more top-notch 4×4 machinery than you'd expect in your average urban sprawl.
New York does suffer from heavy winters – all those chilly episodes of Friends and House and various movies with snowy backdrops are testament to that. So some decent machinery for the sometimes harsh conditions does not go amiss. In the UK, when we get severe weather, it's often the case that emergency services can't get through, and have to rely on Mountain Rescue/Search and Rescue Teams, or the AA/RAC or even the goodwill of local 4×4 owners to help out, and this tends to be isolated to rural areas.
Not in New York. The Fire Department uses Ford F350 pick-up conversions, ambulances are big Fords that have the aura of super duty pick-ups, and there are huge Ford truck conversions trundling around the grid system under the pilotage of builders, contractors, electricians, waste disposal engineers, power suppliers, water companies etc. A great and bizarre sight was a massive industrial waste 4×4 truck creeping in a traffic jam outside the mighty Bloomingdales – awesome, as they say; yes, I got caught up in the lingo, too.
My only disappointment was that I didn't actually spot one Hummer; I thought the streets would be crawling with them. What I did see, however, were quite a number of Jeep Grand Cherokee WJs; yes, the old model that I used to own which has now, finally, been replaced (see Our 4x4s page 82). I even came across a line of 4x4s parked, which included the only Evoque I saw. There was also a white WJ (never seen one in that hue before in the flesh) in front of a white Grand Cherokee WK (the model that replaced the WJ and I have been agonising over buying). It was interesting to compare the two Jeep models right next to each other in the same colour. I still prefer the look of 'my' model, but they did both look very cool in white. You just don't see them in that colour here in the UK.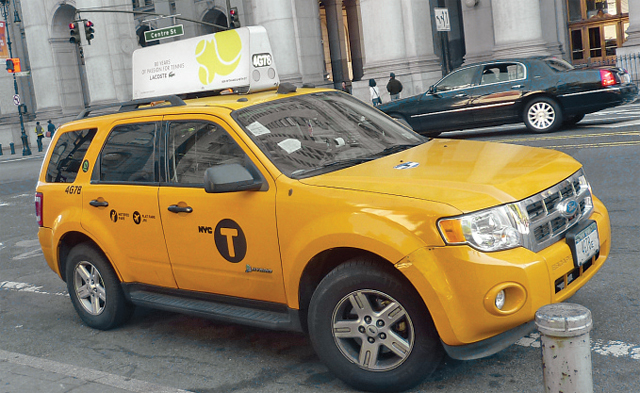 One 4×4 that was just about everywhere was a different colour altogether and not your normal one – yellow. The New York cab fraternity has a massive contingent of Ford Escapes. That rather surprised me as I expected just the usual elongated saloons. But Escapes were everywhere and I rode in several just to save the increasingly aching feet; once on my way to the amazing Chrysler building. As a Jeep fan I just had to pay it a visit. I am also a fan of the Escape. It's not available in the UK, but I drove the length of Vancouver Island in a hired version last year and thoroughly enjoyed the experience. It's a medium-sized SUV that looks like a 4×4 and not a curvy clone like many do now, although the latest Escape is showing distinct signs of having some of the DNA of a modern crossover. While in Vancouver, I bemoaned the fact that we did not get them in the UK, as it was (is) a good vehicle. But I'm not so sure it makes a great taxi from the passengers' point of view. The rear is a bit cramped and, with the plastic barrier that you need between you and the driver, the whole space felt very claustrophobic and a bit 'in your face'. It also seems that we are about to get the Edge into the UK (see News, page 10).
The NYC taxi Escapes first appeared on the streets of New York in 2005 as Hybrid versions. There were 18 of them and, in less than two years, they had clocked up about 175,000 miles each. And, apparently, they saved around $250,000 in fuel costs. When they first appeared, the worry was that the complex hybrid drivetrain wouldn't survive the constant stop/start, but in totaling the same mileage that most average vehicles accumulate in 12 to 14 years the Escape Hybrid proved it was very capable, and that's why it has become such a big hit among the NY cabbies. Plus, it can also cope just fine with the snowy winter streets of Manhattan.
There were plenty of other impressive 4x4s that we don't get over here buzzing all over the place, Ford Expeditions and Explorers (that was one we used to enjoy over here, but was discontinued a long time ago) and all sorts, plus loads of new Jeep Grand Cherokees. I love going to North America and reveling in the 4×4 scene. The odd Range Rover and even odder Defender will always make its presence felt, but Chevys, Jeeps and Fords are everywhere. The streets of London, Paris or Berlin aren't quite so well endowed, but then big 4x4s do actually look a bit out of place in these cities. In New York City, despite it being even more congested and sometimes claustrophobic, they just don't. Amen to that!
Hils
---

Read Hils' column every issue in 4×4 Magazine – subscribe here!