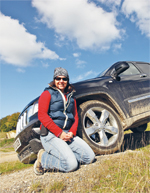 As we come to the end of the year, and complete our 2014 4×4 Of The Year mega test, things look good for the future of quality 4x4s
Another 4×4 Of The Year has come and gone. Every year throws up something new and fascinating to get our teeth into as 4x4s continue to have a real presence in the overall car market. These days, any manufacturer that doesn't offer a 4×4 of some form seriously needs to redress that glaring omission.
The SUV/Crossover sector has ballooned in the last few years, as has the luxury end of the market. And it's going to get even bigger with Jaguar and Bentley soon to be in the mix. Then we have Land Rover continuing its gradual phase of development, creating particular families within the group. Range Rover has established itself with the Range Rover, Range Rover Sport and Evoque. Latest news is that a Discovery range is about to become a new family. The ageing Discovery is being revamped. A new baby Discovery will replace the Freelander and there will be a larger sibling to replace the Discovery 4. In many markets the name 'Discovery' doesn't actually exist. For instance, in the USA it's known as the 'LR4'. In future this and other markets will come to know the Discovery name as all the vehicles built on that platform will have 'Discovery' badged on the bonnet, like all the Range Rovers do now.
If you look at the pictures of this year's event you'll see how alike the Evoque and Range Rover Sport now are. Like VW, Land Rover has adopted the policy where vehicles share the same DNA and front-end styling. The VW Tiguan, Touareg and Amarok are all obviously related and that is how manufacturers want to proceed. 'Branding' is the new watchword in all products these days, and that has extended to the car market. So expect to see a string of Discovery models in future all sharing design features.
The first pictures of the new baby Discovery/Freelander replacement look good. Built on the existing Freelander platform, it will be a hot seller, no doubt about that. What is not so sure, as yet, is what we will get from the new 'Defender'. We are assured by Land Rover that it will be some form of decent off-roader but way more civilised. It appears it will be referred to as the 'Dual-Purpose' Land Rover sector. Interestingly, 'Dual-Purpose' is the term used by the Society of Motor Manufacturers and Traders (SMMT) for its 4×4 sector stats. That, of course, covers all 4x4s, from off-road capable Land Rovers, Toyotas and Jeeps, to road-biased SUVs like the Audi, Porsche and Mercedes-Benz brigade.
Using that term 'Dual-Purpose' implies that the Defender replacement really will veer away from being a tough and rugged off-roader. John Edwards, the man in charge of Land Rover's Engineered to Order Division, has been quoted as saying that the current Defender is too rooted in the off-road element, but reassures us that off-road ability will still be important, the vehicle will just be more refined and offer a broader range of abilities.

This highlights Land Rover's determination to grab a slice of the huge Toyota Land Cruiser market overseas. The Japanese manufacturer is big in Australia and huge in the deserts of the Middle East, Africa, and obviously its homeland the Far East. Those markets love the Toyota for its ability, build quality and reliability, not attributes that Land Rover has always been able to boast in its long history. Until now… we would like to hope.
Talking of Toyota, it was a great shame we couldn't have the revamped 2014 Land Cruiser for our Premium group on this year's test. The vehicles just aren't in the UK as yet. It would have been good to compare the latest update with the brand new Range Rovers. Toyota has gone dynamic with its new Land Cruiser model names: 'Active', 'Icon' and 'Invincible' (the latter taking its name from the mighty Hilux pick-up truck). The starting price is also very attractive at a mere £34,995 on the road; highly competitive considering the hugely inflated prices of Land Rovers these days. Toyota is now more in line with the extremely good VFM Jeep brand.
Unlike Land Rover, Toyota hasn't gone for any dramatic change in styling for its new Land Cruiser. Whereas here in the UK it may be deemed still too boxy (below left) and not Evoque-esque enough, Toyota wouldn't want to upset its loyal following by dramatically changing its icon. We look forward to driving the new one, which remains a true off-roader and a comfortable, luxury tarmac cruiser.
Mitsubishi is another manufacturer that has been wary of upsetting loyal followers. Its iconic Shogun has been around for over 30 years, but, unlike Toyota, has not changed at all within that time and looks so out of date now. The good news, however, is that it seems there may be a new Mitsubishi line-up on its way. It's only at concept stage at present, in PHEV form, but it's a start and a very welcome one. With that on the horizon, as well as brand new entrants from Jaguar and Bentley, it's all very exciting and intriguing at the top-end of the four-wheel drive marketplace.
Hils
---

Read Hils' column every issue in 4×4 Magazine – subscribe here!