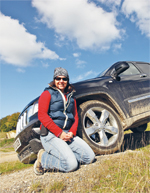 Our columnist waves goodbye to a couple of true intrepid adventurers, and wishes she could join them…
A few months ago I reported on my latest trip to Iceland, in particular an amazing trip to the Langjökull Icecap in one of the superb Arctic Trucks Toyota Land Cruisers. On that day, we were driven by Antarctica-specialist and all-round off-roading legend Gísli Jónsson. Joining us, and keeping a very low profile, was his partner Felicity Aston.
On that day I found out that Felicity just so happens to come from a small town in Kent – just a few miles from where I live, which was quite a coincidence in itself. But what is far more fascinating is that Felicity is a true legend as well, in her own right. She is the first woman in the world to ski across Antarctica alone, led a team of Commonwealth women to the South Pole on skis, has raced in the Canadian Arctic, led a team of women across Greenland's inland ice and skied along a frozen river in Siberia, as well as spending three years living and working in Antarctica, where she met Gísli.
Felicity and Gísli have achieved many other amazing things between them, but their latest venture really caught my eye. That's because they managed to secure the 6th Land Rover/Royal Geographical Society 'Go Beyond' Bursary for Felicity's 'Pole of Cold Expedition'. They are chasing winter across northern Europe and Siberia to the coldest inhabited place in the world – Oymyakon. It will take three months, clocking up 30,000km and the resulting experience will form a UK tour in 2014 under the banner 'What does winter mean to you?'
Of course, to tackle such a tough journey in an extremely harsh climate they needed a vehicle up to the job: hence, the Land Rover bursary. Winning the bid against tough competition meant they received a specially prepped left-hand-drive Land Rover Defender 110. It has been modded with up-rated suspension, underbody and driveline protection, extra batteries, auxiliary heaters for engine and the occupants, long-range fuel tank, Warn 9500lbs Cti front winch, all of which was tested in the cold climate chamber to -40 deg C. It sits on Durawall Puncture Resistant Goodyear Wranglers and is fitted with that all-important Alpine hi-fi sound system, to keep them entertained throughout the long journey.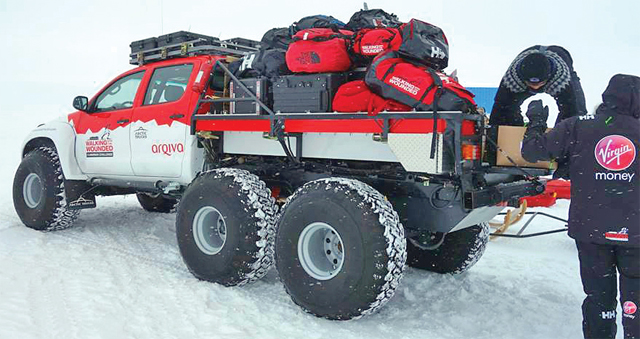 Regular readers will know Arctic Trucks is a Toyota specialist, as we have featured various pieces from the Icelandic expedition prep company over the years. Gísli is far more acquainted with Toyota Land Cruisers and has given himself a crash course in Defender running gear and mechanics: "I have downloaded lots of workshop notes," he smiled when I popped down the road to see them off in late November.
He was also relieved that his spares list had finally arrived in the form of fanbelts, UJs, bearings and various other axle parts. The team also had some driving instruction at the Gaydon HQ to familiarise themselves with the 110. Gísli particularly liked the seat adjustment – back six inches to accommodate his athletic frame with seat rails as well. A Defender is not the place to spend three months in difficult climates for an above average height chap without any extra room – especially one who is more used to the luxury of a Land Cruiser or even a Hilux.
Talking of Hiluxes, when I was last in Iceland for that trip with Gísli and Felicity, we visited the AT workshop where a 6×4 Hilux was being built. It was gratifying to see that very truck all over social media recently on its way to Antarctica on the Willis Resilience Expedition, a 2300km, six-week Coast to Pole ski expedition, in which teenage explorer and climate campaigner Parker Liautaud hopes to set a new speed record for crossing the whole of the continent of Antarctica, as well as collecting data about the extreme Antarctic weather conditions.
AT has also supplied support vehicles to the much more widely publicised Walking With The Wounded Allied Challenge 2013 race with teams from the UK, US and Commonwealth walking to the South Pole featuring injured service personnel and none other than Prince Harry. Gísli would have been on that trip with Harry (whom he has got to know quite well) if it were not for the Pole of Cold expedition. Now that must have been a difficult choice.
At least I got to wave Gísli and Felicity off from her base a few miles down the road in the resplendent red 110. We laughed as we realised the worse problem they would probably have was getting through the flippin' Dartford Tunnel on the M25 in under two hours… that bemused the Icelandic Gísli who finds UK traffic perplexing.
I wish all those expeditions the very best of luck (some of which will have been completed by the time you read this); and hope all their vehicles, whether Toyota or Land Rover, are unstoppable and brilliant performers. Lucky people. Envy is a terrible curse…
Hils
---

Read Hils' column every issue in 4×4 Magazine – subscribe here!