Writing this issue's group test of soft-roaders/crossovers/SUVs – whatever you want to call them – was quite an enlightening experience.
Here at 4×4 we are often rather dismayed by the lack of 'real' off-roaders left in the world; vehicles that offer a proper low-range transfer box and the sort of ground clearance that will make sure you can clear more than just a small, muddy hump or a patch of slippery grass in the gymkhana field.
But the world is changing and manufacturers are all competing to produce the best, compact, but still useful 'soft-roader' (my preferred term for the genre). The 4×4 has become a hot property in buyers' guides and at auctions, as harsh winters seem now to be the norm in the UK. The Siberian weather that the east coast of the USA is experiencing as I write this, appears to be heading our way…
Statistics issued recently have shown that prices of 4x4s are on the up. British Car Auctions (BCA) released a statement in mid October confirming that four-wheel drive values had risen sharply, with an average value of £12,805 in September compared with £10,381 in July (although that's still down from the enormous rise last December to over £14,000, from just under £12,000 in November). But it's still some rise, and is expected to increase even further in the next few months. When the snow arrives…
I have just returned from a great trip up north, which included a day out with Kielder 4×4 driving the tracks of the Forestry Commission land in Northumberland. You can read about that in a future issue, but, before I went, the organisers said: "They've forecast snow for late October/early November so bring your thermals and a shovel as it could get tricky!"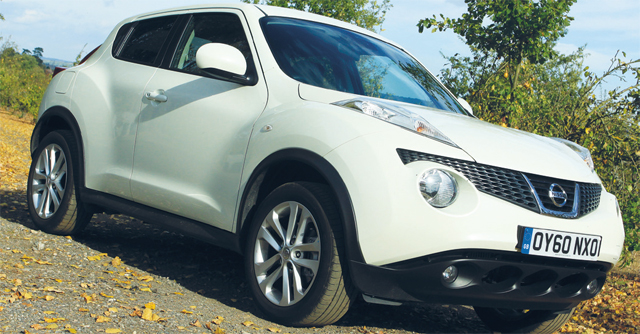 The snow didn't materialise, but it goes to emphasise why non 4×4 owners who have suffered badly in recent winters are now seeing the folly of not having a 4×4, especially since, as I said, it looks like severe winters are here to stay. For people in rural areas a 4×4 has become a necessity rather than a luxury and, as the weather gets colder, values will go sky high. From a purely financial point of view, if you are looking to sell your 4×4 then now is a great time; although there is a downside, in that the replacement – as you certainly wouldn't be thinking of leaving our world would you? – will cost you more, if you aren't 'downsizing'!
BCA suggests that high-spec vehicles should be sought as they hold their values better. That may be so but, for those who are just looking to get around in bad weather, shelling out for a high-spec 4×4 may not be cost effective if they are planning on longer-term ownership.
I have looked at replacing my '02 Grand Cherokee, and have struggled to find anything that suits – apart from the WK, of which I am not a big fan – so that just leaves me with a slightly newer WJ, and they are not easily found: 4x4s are in demand and I know plenty of people who are struggling to find what they are looking for. So, if you are thinking about joining our fraternity for the first time; don't delay… it will cost you more and it is proving difficult to find what you want.
What has surprised us a little in the latest stats is that, although diesels are most popular, petrol models seem to do OK, if the mileage is low. Also, new buyers are not necessarily honing in on the smaller, compact 4x4s that should provide safety and reliability in the snow and icy conditions at a more attractive price. Instead, the likes of BMW X5s do well, as do Range Rovers and Discoverys of various generations.
The soft-roader market is showing a healthy tick-over and, despite their 'entry-level 4×4' reputation, the four-wheel drive systems on some of them are quite impressive, as you'll find in our big test this month (see page 60). Some offered centre diff locks, which we love of course, while others merely had the electronic Haldex clutch making all the decisions with no driver input – which we don't love quite so much. The likes of the Urban Cruiser from Toyota didn't really produce fireworks, but Nissan's Juke, driven by the team for the first time, was a revelation: great on the road; an intelligent, manually-operated 4×4 system and great looks. I rather fell in love with it and all said it suited me, so perhaps it could end up on the Hils fleet if and when second-hand values make it a viable choice as a small, funky, fun-car runaround. And, unlike my Mazda MX5 I will also be happy to take it out in the snow… although can't really chop the top off a Juke, can I?
One final thought: as we 4×4 owners are keeping the economy going in the winter months by getting out and about and spending money, and rescuing friends and vulnerable people and those needing urgent medical attention, shouldn't that be rewarded in our road tax bill…?