With the explosion of the SUV market in the last few years, it's great to see that equipment and accessories' manufacturers have embraced the latest craze for these 'pseudo' 4x4s
On our big camping weekend, featured on page 20, we included the very latest in tent options specifically for an SUV and the pick-up. For many years the roof-top tent was the thing, as it was deemed that only serious off-roaders with serious vehicles would be camping and anyone else could just use the normal ground tent, as lived in by the general camping fraternity.
That may well be the case for serious overland trips, for which, in recent years, the flip-up option has become very popular. Then we had the demountable camper that fits onto a pick-up's loadbed, which has created something like a caravan on the back of your truck. With prices in the £10,000-plus bracket that's a lot of money and you need to use it a lot to make it worth that cost.
Having spent a few nights in one, however, I can vouch for its comfort and convenience, with great kitchen space and a fridge. And don't forget you can heat it up, too; useful even on those cold UK nights, never mind in more extreme latitudes. Apart from the price, the biggest downside is you need to be able to store it somewhere spacious when not using it. When you drive around with one on the back, you hardly notice it's there, but you wouldn't want it on a day-to-day basis and, of course, it uses up all your loadbed space.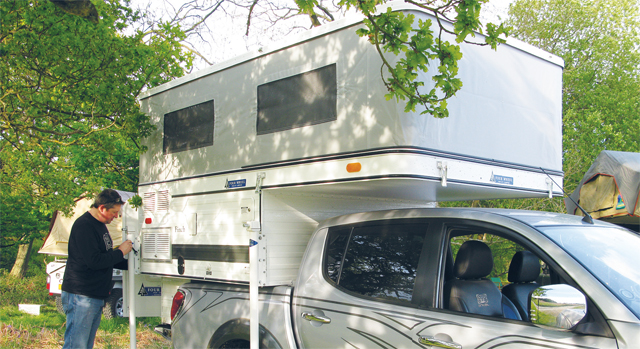 I haven't seen sales figures for these beauties in the UK but I can't imagine they are going like hot cakes. Roof tents can be anything from a few hundred to a thousand quid but they are more user – (and storage) friendly and will last you many years. The flip-up, or 'Camper Shell' as they refer to it in the States, is more expensive and is a permanent fixture as it replaces your 4×4's original roof, but these are pretty aerodynamic once folded down and there is the beauty of not needing any storage space.
The SUV and pick-up tents are nylon tents in the traditional sense, but the SUV has a clever extension attached that fits onto the back of an SUV. It's a great idea and worked pretty well, if you don't mind loads of straps and clips and are careful during attachment so that your shiny metallic SUV bodywork doesn't get marked in any way.
With the pick-up market still in reasonably healthy order, it's good to see that owners can use their pick-up for a camping trip and not sleep on the cold ground. Not only that, it's quicker, easier and far cheaper than the roof tent or pop-up options.
The problem is that it is a very cosy option for two, with the inevitable problem of those protruding wheel arches invading the sleeping area. It's not for the family camping trip, and once again, anything that takes up loadbed area means that the normally rather cramped rear seat gets filled up with kit. It also requires an open loadbed, which many pick-up owners don't have these days. To make best, secure use of your vast cargo area, and let's face it that's why you buy a pick-up isn't it, a truck top is essential, and therefore not conducive to the loadbed tent.
We can't imagine seeing loads of these around during the summer camping season, but it's great that the product is there. Wonder who is working on the next options; with all sorts of configurations for tents on top of loadbed covers perhaps?
The pick-up accessory market is vast generally, and with new models constantly arriving – there is also the new SsangYong Actyon Sports, which debuted at Geneva in March, on its way, don't forget – more and more accessories will appear; and many specifically for the commercial and utility market.
I went to this year's Commercial Vehicle Show (see July News, page 12), which had a plethora of pick-ups with excellent storage accessories and industrial attachments as you'd probably expect. What I didn't quite expect was the complete lack of Defenders on show. Not one.
It looks like Land Rover pricing, maintenance and running costs are just not what the commercial sector needs anymore; there are more used-friendly and more reliable options out there at a far better price. And with the latest 'budget' options for the Isuzu D-Max and Great Wall Steed, the appeal of the Land Rover fleet seems set to diminish even further.
With the commercial sector giving it the thumbs down, Land Rover is probably right to reflect that the DC100 just won't be geared towards the utility market. A really traditional diehard home for the Defender, apart from the agricultural sector, is the Mountain Rescue scene. It'll be interesting to see if that veers strongly away as fleets are replaced.
Hils