Can we stop building 'bland' 4x4s? A plea to bring back some individuality into 4×4 designs and stop everything looking the same
Have to say, I love my job; and I particularly love it when I meet those amazing enthusiasts who have an intense respect for a certain type of vehicle, know everything about it and have spent years buying and restoring loads of models to keep their dream alive.
You can read about one such enthusiast, or I should say a family trio of Grandad, Son and Grandson, all with the same penchant for historic military vehicles in this month's issue (page 60). Grandad Paul has been a huge fan of anything military since he first spotted a Dodge Command car in his home town during the Second World War and has since transformed many stunning wrecks into impressive restorations with a delicate and loving attention to detail.
The Dodge Command car we feature this month is a beauty and even if you are not into such military gems, you can't fail to admire its design and style. It was loved by top military commanders and represents the glorious past of our great passion, the 4×4. Seeing this Dodge in the flesh, after having first spied it at a military show, again, makes me yearn for the days of 4x4s with some real character and class. I think the closest we come to that these days is the magnificent Mercedes G-Class – see the latest update to the luxury true off-roader in the News pages – or Jeep Wrangler. Yes, the Land Rover Defender is clinging onto some dignity, but that is all about to change when we find out exactly what the DC100 will look like (and we have a pretty good idea…).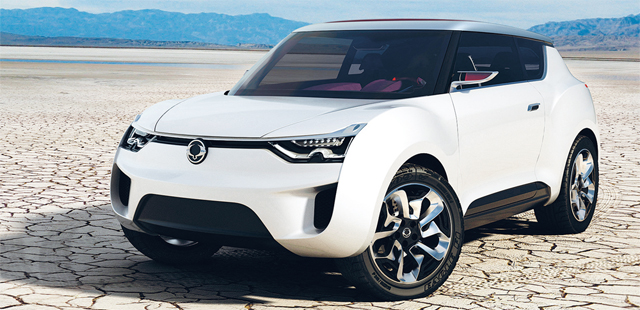 The plethora of compact SUVs are all looking very similar, and the big boys, too, have a whiff of similarity about them, although the Jeep Grand Cherokee does offer a slight deviation from the 'norm'. Everybody seems obsessed with the Evoque. Yes, it does look fantastic, and yes, I want one, but 4×4 designers seem to be obsessed with it. Look at the latest SsangYong 'CUV' (Crossover Utility Vehicle) concept, the XIV-2: an Evoque with a hint of DC100, perhaps?
It's a shame – yes, I know I am going to be called a stick in the mud – that we have to go down the 'bland' and conformist route to sell 4x4s en masse.
I love the fact that the Germans are showing a bit of their neighbour's French character by refusing to budge on the style of their off-roading Icon, while the latest Merc ML – the 63AMG – is yet another sleek feline.
After all, 4x4s are all about character; about separating the men from the boys. They climb mountains, they tackle snow, they negotiate mud and water, albeit with varying degrees of competence. So why can't more of them reflect that 'character' in their design like they used to?
Of course, markets have trends and manufacturers have to follow them to stay on a par with the competition. I just wish that someone else would just be bold enough to inject some individuality back into 4x4s. I love the Nissan Juke because it's funky and stylish and is individual, but it is not a true off-roader.
I mentioned the Jeep Wrangler as being in the true spirit of 4×4; and the Cherokee, re-launched in 2008, retained the boxy lines and individualistic style. I like that, and may own one in the future, who knows, but it was discontinued in the UK because we wouldn't buy it. It will, no doubt, be superseded by another Compass-like offering.
But the G-Class Merc is a corker and has retained the heart and soul of the original G-Wagen – just a shame it is priced out of most people's wallets and is only really looked at here as a novelty 4×4. More's the pity.
So it may come as no surprise that I have rather taken a shine to Renault's new electric dream, the Twizy – what a welcome distraction from this world of bland, bland, bland and convention. I know it's not a 4×4 but I admire the designers for their guts – akin to the Smart guys – and am going to nip down to my local Renault dealer and have a good old nose at it in the flesh. I might book a test drive, too.
Wouldn't it be great if a successor to, say, the excellent Suzuki Jimny turned out to look a bit whacky and unique. C'mon manufacturers, be brave and impress us all. Relight that 4×4 fire!
Hils