This month, Hils remarks on the lack of Land Rover presence in the Dakar Rally, the ultimate off-roading competition. Is it too tough for Land Rover?
The baby Range Rover Evoque has taken the motoring world by storm since its official launch, and we were expecting to see a team take this year's Dakar Rally by storm and provide all the headlines and excite plenty of attention, along with the other new entrants, the Mini All4 Racing (Countryman) team. With the decision by Volkswagen to withdraw from the famous rally this year, after taking all the plaudits from the last two events, all was to play for.
Last September the Excite Rallye Raid team announced it was running three Evoques on the upcoming 2012 rally, specially commissioned from RaBE race cars and driven by Martin Rowe, John Hardy and Andrew Coley. The vehicles were to be based on the Evoque body with a tubular chassis, ZF six-speed transmission and powered by a 3.0-litre BMW engine and held up by BFG desert racing tyres. But they were not there and the statement from business manager David Jones said: 'We've been working on this project for a long time; we haven't disappeared, but we need to change our approach due to the economic climate'.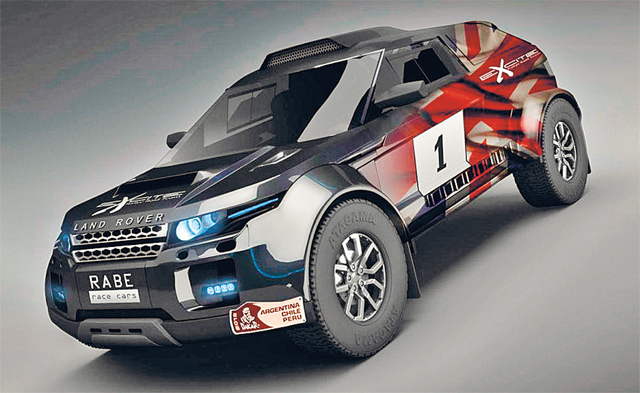 Basically, the problem seems to have been the financial backing, which wasn't forthcoming, apparently due to a lack of widespread media coverage. However, it looks like that backing will be there for the 2012 season with the Evoque prototype getting intense testing in various off-road rallies to build up the 'D5_WN5' production version ready for the 2013 Dakar.
So with a handful of Bowler Wildcats (only two finished, in 33rd and 69th), absolutely no Nemesis entrants – which has shown what were previously expected to perform as super rally cars have not yet come up to the mark – the Land Rover presence in this year's Dakar was probably the most insignificant ever. This is rather sad, considering it was actually a Range Rover that won the inaugural Paris-Dakar back in 1979 and another triumphed in 1981.
I was also disappointed that VW pulled out this year, but I was really rooting for dear old Robbie Gordon in his Hummer H2. He has lost out on podium places due to terrible mechanical failures in recent years and the VW team had been his nemesis. With them gone and no Evoques I really thought it was going to be his year. He clocked the fastest times and won special stages and was within minutes of the mighty Stéphane Peterhansel's Mini throughout until the later stages but, once again, mechanical failure scuppered him when a CV joint failed leaving him no drive and lost him a couple of hours or so.
I really feel for Robbie; he wears his heart on his sleeve (the Eurosport cameras loved him) is a real trooper and just won't give up. His fellow Hummer driver, defending champion Nasser Saleh al-Attiyah, who had to retire, said he would never drive a Hummer again, but Robbie will be back in 2013 with a vengeance, hoping to outdo the Minis and take the attention away from the Evoque debutantes.
That's the Dakar for you, full of trial and tribulation and fantastic footage. So perhaps Land Rover may make more of a presence next year, particularly as Bowler is now owned by coachbuilder CPP Global Holdings Ltd; so, could we see the Nemesis back, alongside those Evoques, clocking up better performances? And QT Services has just announced the new Wildcat TDV6, so could that make an appearance next year after a Tuareg Rally debut in March?
Apparently, one of the big honchos at Land Rover itself is a huge motorsport fan, so what about an official team from the manufacturer putting a toe in the Dakar waters and soaking up those massive dunes? We shall see.
Finally on the Dakar, I must say big congratulations for 4×4 Magazine's friend Xavi Foj, who won the T2 production class in his Toyota Land Cruiser. I met Xavi while he was carrying out final testing on his vehicle in Spain in November 2010. I was lucky to be a co-driver for a few laps and, although it only gave me a tiny taste of what it's like to sit in a rally car at full speed in full flight, it was quite superb. He had a tough battle to take the spoils at this year's rally and he and the Toyota team thoroughly deserved the win. Xavi, we salute you!
Tenuous link time…there may not have been many Land Rovers to speak of blasting through Chile, Argentina and Peru but there were, however, plenty trundling about in the Chamonix valley in the Savoie region of France where I recently enjoyed some fun on the deeply snowy slopes. The emergency vehicles were fine specimens and, again, it makes us wonder how these guys view the future of the Land Rover 'DC100' as a specialist recovery truck and its worth to them for emergencies in the tough terrain that surrounds the Mont Blanc massive and all over the Alps…
Hils