This month Hils ponders the highly competitive, yet rapidly progressing pick-up market that promises a bright future for some manufacturers
Following on from our mega 4×4 of the Year 2012 in last month's issue, in this edition we look at the pick-up of the year (page 66). This year's test, erring towards the lifestyle genre, has been hampered somewhat by the lack of availability of two important new models, their arrival in the UK having been delayed by floods and other natural disasters in the Far East that have prevented some parts' manufacture.
It could have been one of the most significant comparison tests for some years with Toyota, VW and Ford all contributing their new vehicles. We had the VW, which has been around in various parts of the globe for almost two years now but only for a short time in the UK, but sadly not the 2012 Hilux and Ranger. A real shame, particularly since the Ranger features its new Traction Control System that now means the VW Amarok is no longer in a class of its own as a stylish and highly competent off-roader with electronic 4×4 technology.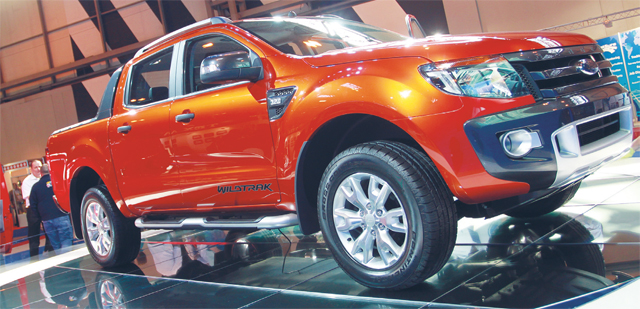 The arrival of the new boys now makes the likes of the Isuzu Rodeo and Mitsubishi L200 look rather outdated. The progress in technology is amazing, yet I have spoken to many small commercial operators who still swear by the Rodeo – they love its impressive 3000kg towing capacity, excellent reliability and general workman-like approach, as well as the highly attractive price tag. The L200 starts at a comfortable £16k but you can shell out up to 30+ grand for a 'Walkinshaw' option to embrace that boy racer image. The L200 has been a firm favourite among commercial fleet operators who have cited its 4-Star NCAP rating as an important feature that affects vehicle choice. But once you start examining closely the figures for the new models you see that in terms of price, economy and towing prowess, the old boys are looking their age and might not be so attractive in this era of economic austerity.
The Amarok will return 35.8mpg, tow just under 2700kg (similar to the L200) and costs £28,000; the new Ranger, we are promised, will return 'class-leading fuel economy', tow a whopping 3350kg and is quoted at £17-29k and has the magic 5-Star NCAP rating; it has everything and some, even over the sophisticated and suave Navara but at a fraction of the price! The one-time all-mighty Nissan is listed at a wallet-busting 38 grand.
Yes, the commercial operator traditionally wanted a robust workmanlike vehicle at a friendly price, but you can now splash your company cash (and therefore reclaim that humongous 20% VAT figure) on a sophisticated, comfortable and cost-effective utility truck that you also don't mind using to take the kids out at weekends. Commercial and lifestyle are now officially merging into one; and, yes, it is working.
The commercial pick-up market must also be relishing the latest developments on the Land Rover Defender saga. With the uncertainty about the 2012 Defender with its new 2.2-litre engine and its alleged inferior towing capacity, and the likes of Ford offering that stonking 3350kg figure, we could find that the traditional devotees of the green oval badge will start turning a distinct shade of blue – possibly even this summer – and opting for the other famous oval badge with its cheaper servicing, huge dealer network, superior build quality and better reliability. And, although of American heritage, we still think of Ford over here as very much a British tradition, which may also appeal to the Solihull diehards, who can't bring themselves to opt for the Japanese route or venture into the unknown, scary-to-their-eyes world of Volkswagen.
I first feasted my eager eyes upon the new Ranger in the flesh at the CV Show last April – wow, that now seems a very long time ago – yet, due to floods in Thailand hindering parts production, we still haven't got behind the wheel of Ford's cool-looking, hi-tech and safety-conscious truck; so we can't tell you want it's like to drive or indeed just to sit inside. It's frustrating enough for us to wait almost a year since we first saw it, so it must be a nightmare for those commercial and professional operators who have ordered the new vehicle. It looks fantastic and boasts a spec list to induce the most hardened of hairy-bottomed off-roaders to salivate quietly, but can it live up to the cosmetics and the stats? We really hope so.
Until it actually arrives on the vehicle ferries from the South Pacific, we will just have to pontificate, as indeed is the case with Toyota's latest up-lifted Hilux (38.7mpg, but disappointing 2500kg tow) – a traditionally firm favourite here at 4×4. The next few years will be extremely interesting and the various manufacturers' pick-up design and engineering teams will be working hard to capitalise even further on the demise of the standard working utility vehicle and make the pick-up truck the first port of call for the farming and utility market, should the Ibex (see my feature on page 76 on the latest Foers model) not suit.
There could be some exceptionally good New Years in store for some manufacturers and good news for pick-up buyers as the competition hots up even more. Amen to that!
Happy, prosperous and healthy 4x4ing 2012 to all.
Hils