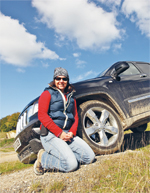 When will we have had enough of all these luxury, pseudo, 4x4s? Bring back real off-roaders…
Visiting Bickers Action this month for a Professional User story (see feature on page 20) was one of the most impressive jobs I have had the privilege to cover. Not only have these guys built some incredible vehicles, but the driving skill that they demonstrate on filming jobs in some difficult locations is quite astounding. Unfortunately, I didn't get the chance to join them on a film or TV shoot. Also during my visit, some of the magnificent trucks were out in Canada doing what they do best – I was not allowed to know where exactly or what on – so I didn't see the complete and vast array of vehicles on offer.
But just being next to a Chevy Cheyenne or Silverado was enough to enable me to revel in the sheer magnificence of these American trucks. Yes, our Land Rovers are getting ever bigger. The new Range Rover is humongous; even if I could afford one I couldn't possibly own one because it wouldn't fit into my garage and probably be just too tight a squeeze on the driveway. I would actually need to move house to accommodate my new 4×4 – madness! But in the US everything is bigger and therefore for this kind of work powerful engines that can cope with huge amounts of kit at high speeds is paramount.
So Bickers has to rely mainly on vehicles that hail from across the Pond, with the odd European saloon making its presence felt and maybe a Far Eastern pick-up in future. Land Rovers would be suicidal as you can't bank on their reliability and costs would be astronomical. The heart might say "buy British" but the head would say that would not be a sound business decision.
Mentioning Bickers leads me to think of Top Gear – as you'll see from the article and, while our home-grown vehicles aren't good for certain businesses, the final instalment of the last series of the BBC's notoriously opinion-dividing motoring programme reminded us how proud we should be of the British motoring industry which is, apparently, thriving. It was odd that Solihull was not mentioned at all, but the immense array of trucks, bikes and diggers and cars etc that lined up on The Mall was staggering and definitely prompted a stirring of national pride.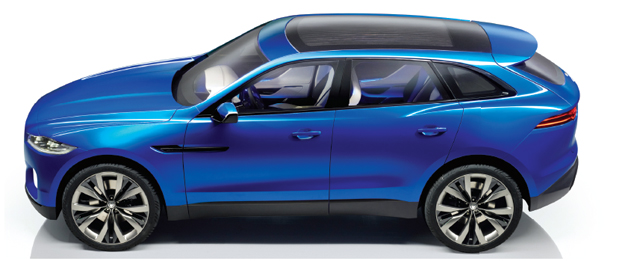 Land Rover is selling vehicles at warp speed, faster than they can build them, and that is good, although we still await a more compact 4×4 from them to plug a yawning gap. A new vehicle is needed from the Brummy stable; and it looks like it will happen. Which leads me neatly to the surprise I felt when I came across Land Rover's super-slick brother Jaguar's latest concept: an SUV. It was inevitable that Jag would join the party eventually and throw an SUV at us. Just about everybody else has. And, being Jag, it had to be at the top end that will hope to compete with the Porsche Cayenne, Audi Q7, Merc ML, VW Touareg, Jeep Grand Cherokee and, oh yes, the Range Rover Sport.
When it inevitably goes into production in the next few years, then it could be conceivable that Sport customers may well think: 'I would rather prefer the slightly more slimline and svelte Jag over the Sport, and it is still British'; and the Jag inherently has more class than the Sport. Hurrah for that at least. I didn't like the Cayenne when it arrived; it looked like a house brick with a similar amount of finesse, and if you want a Porsche buy the bloomin' sports car, as that's what Porsche is (even though I don't particularly like the sports car, either! Am an Aston girl). I have since eaten my words as it's sold like hot cakes. I am still not the Cayenne's most ardent admirer, even though it looks better these days. I do find this Jag a better looker, but I like Jags to be smooth limos and sleek convertibles. It is really just another Evoquey-like, moulded, blandish 4×4 isn't it?
So the next best of British parade may have a Jag 4×4 SUV parked on The Mall. The Americans might take to it as its British and closely related to the Land Rover, of which they can't seem to get enough, with Solihull engineering and DNA. I would just like this luxury SUV explosion to stop and breathe for a little while. Bring on a fantasy future when there are no longer pseudo 4x4s like ugly great MLs and Q7s, less ugly Cayennes and slightly more appealing Jag C-X17 or whatever it is finally called (is it me, or does it look vaguely beaverish at the front?). Real 4x4s will rule the world again! I have a dream… or should that be, in yer dreams, Hils… Hey ho.
Hils
---

Read Hils' column every issue in 4×4 Magazine – subscribe here!