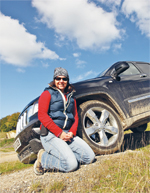 Our columnist has been away enjoying the delights of Corsica – following the Tour de France, and marvelling at the variety of 4x4s…
I've been rather fixated with two–wheel drives lately. Before you gasp in horror and mutter: 'What on earth are you thinking, Hils?' I mean those of the purely manpower variety.
Professional cycling has gripped me in the last year or so: the amazing Mark Cavendish winning the road race World
Champion's jersey in 2011; Bradley Wiggins triumphing in the 2012 Tour de France, and then the subsequent Olympic UK masterclass on the track and Sir Brad once again on the road in the time trial. I was gutted that 'Cav' missed out on the Olympic road race and failed to secure the green jersey in last year's TdF.
The build up to this year's TdF and our chance as Brits to celebrate another UK win with Chris Froome (soon to be Sir? Who knows?) sporting the yellow jersey maintained the juices flowing, especially after the success of Cav in the Giro (Italy's grand tour), winning the points classification. When we heard that the first stages of the TdF for this year, the 100th edition, would be in Corsica and that the very first stage would be a sprint (a chance for Cav to don the coveted Maillot Jaune, even if only for a day) it was all too exciting – and far too good to miss.
I had been a guest of Atlas Overland on their Corsican adventure last year, a trip that was featured in the magazine (October 2012). Corsica simply is a glorious island with some excellent off-roading and spectacular scenery and I vowed to return for a holiday. So a week in Corsica watching the first three days of the Tour, and hopefully witness Cav whizzing by in said yellow jersey, was booked.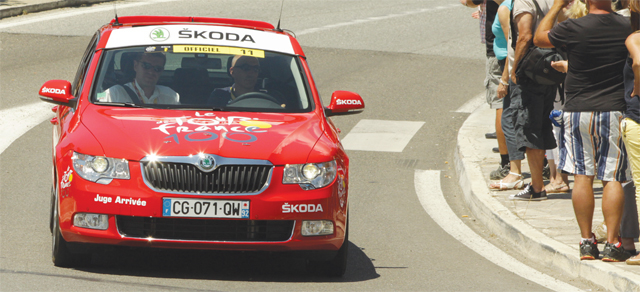 The whole entourage of the TdF is an amazing spectacle. The riders may well go whizzing by on the flat or battle up the mountains and leave you with a wonderful, albeit brief memory, but there's so much more to the race, in terms of vehicles and activity. The build-up as you wait at the roadside for them to fly by is incredible, electric and exciting. At least an hour beforehand, what feel like hundreds of vehicles, emergency, official and team, go by hooting their horns and waving and generally soaking up the atmosphere.
Many of those vehicles are Skoda Octavia Estates. Skoda sponsors the Tour and the Octavia is a big seller generally in Europe; and when they whizz past in all their Tour-graphic glory they do look very impressive. Then you get the Skoda/Volvo/Renault etc vehicles with all the spare bikes on top which cut a fascinating dash as they follow the riders, all very close on the narrow stretches and very top heavy. I wouldn't want to drive one; way too much responsibility and concentration. I'd rather tackle a narrow icy ridge in a Willys Jeep with a 100ft drop either side on the now, sadly defunct, Croisiere Blanche, to be honest.
Another vehicle that made its presence felt was the Dacia Duster. We've only just received it over here in the UK, but it's been selling like hot cakes in Europe. Corsica is no exception. They were everywhere. And one particularly impressive example was that on duty at the Tour run by the Sapeurs Pompiers Haute Corse – in other words the Corsican Fire Brigade (would have loved to have brought you a Prof User feature on that one). The Duster was badged as Vehicle Leger Medicalise for the Tour and looked the part in red livery with blue flashing light, underbody protection and headlamp guards.
Apart from the Tour, we saw them all over the place. Although it was highly noticeable that they seemed to be the only 4x4s around that were relatively new and unscathed. Everywhere we went there were lovely old Nissan Patrols, Suzuki Vitara soft-tops, more rusty and refusing-to-die Lada Nivas than you could shake a stick at, plus some aging, but immaculate, Toyota Land Cruisers.
I love it when I venture across The Channel and visit mountainous and rural areas, as I have never failed to be presented with tons of lovely old 4x4s to drool over and occasionally giggle at due to their terrible state. On this trip I only saw two Land Rovers, a battered old Lightweight in the car park at Porto and a weary 110, which could do with some TLC. But it's the plethora of non-LR 4x4s that are still running and keeping the world turning in these areas that make it so pleasing as a 4×4 lover. It was kind of refreshing not to see too many Range Rovers (we are littered with them round here – particularly Sports and Evoques – and Porsche Cayennes).
Corsica is Mecca for 4x4s and drooling over times gone past when there were some classic and good-looking seriously capable versions is a delight. Next time, I am going to drive down there from the UK in whatever 4×4 I happen to be owning and make the most of it. We had great fun buzzing around some terrible (non-Tour) roads in our hired, brand-spanking new little Ford thingy, so what great fun would I have had in a real car, built for the wonderful Corsican landscape?
Hils
---

Read Hils' column every issue in 4×4 Magazine – subscribe here!