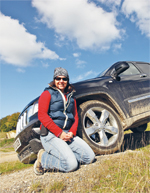 Even as a traditionalist, the future of the 'softer' SUV from Jeep makes perfect sense to me. I'm even looking forward to the launch of the new Cherokee
Having brought you a review of the 2014 Jeep Grand Cherokee last month, and extolled the virtues of my beloved, albeit ageing, WJ model, then read Bob Cooke's less-than-enthusiastic comments about the new Cherokee due here later this year, I feel the need to draw a line under the 'Jeepey' theme with a few comments about what is going on in the minds of the Fiat Chrysler hierarchy.
Of course, at any press launch of a new/revamped vehicle, the guys in charge are abundantly enthusiastic about their new models and the future prospects for their brand. Here at 4×4 Magazine, we are all fans of the iconic Jeep and its heritage and so when we hear that the future is bright, the future is auto-engaging 4WD, city-slick luxury and Evoque-esque styling it's bound to stick in our craw a little.
I really do sympathise with Bob's view, as he has owned Cherokees for as long as I can remember and used them in the best way possible, both as a daily drive and on regular weekend off-road forays with his mates. But I really can't say I dislike the new Cherokee or its lack of any obvious nod to previous off-road prowess.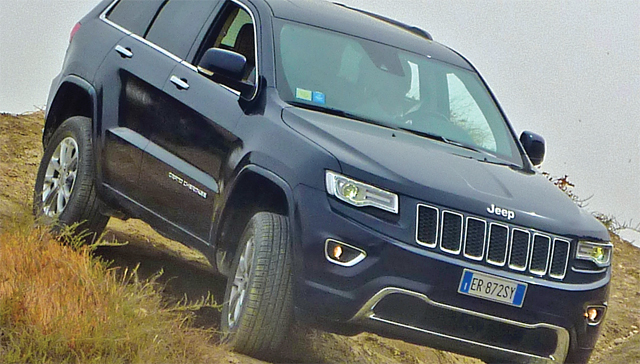 For a start, as much as we may rail against it, the market for 4x4s en masse is for good-looking, imposing vehicles that look safe to transport the kids to school. I accept that and have to live with it. Car companies are following the Land Rover way; and I am a fan of the Evoque, particularly the fact that it is actually a very capable off-roader, although it will rarely get the chance to demonstrate that outside the confines of the off-road testing routes at Eastnor Castle and the Heritage Centre in Gaydon. It also looks great and we needed something to get away from the bland styling clichés that had begun to invade our market.
Jeep won't sell non-Wrangler or Grand Cherokee models in any numbers unless it bows to the modern trend. SUVs, in the modern sense not the true traditional sense, are the biggest-selling sector of the motoring market and motorists want them. They want a combination of tough yet stylish looks, comfort and that indefinable 'cred' factor. Jeep has gone to great pains to make sure its latest offerings have 'the best on-road manners', as Chris Ellis head of the Jeep Brand EMEA (Europe Middle East and Africa), announced at the press launch. The new Grand has just that: the bow to all-round independent suspension, way back at the launch of the WK in 2005, was a major breakaway from the norm and a nod to the European market, where the Grand excelled.
"The Grand Cherokee has more European customers than all the Jeep models and therefore it needs to have the best on-road manners we can provide, but be safe and hi tech with an overall level of general refinement," he added. Mixing excellent off-road ability with refined on-road manners is something we applaud and trust the Jeep, along with Toyota and Land Rover, will continue to produce such vehicles. The Middle East will always be a strong market for such vehicles (the locals tend to favour Toyota there), so that will keep them ticking over on the production line.
But it looks as though the smaller, more affordable examples will lose their 4WD excellence along the way as the new Cherokee demonstrates. I wonder how long the Evoque will keep its off-road technology, as it will never be required by 99 per cent of owners? The emerging markets, which have all the buying power, will probably dictate that one. Jeep's Ellis quoted African sales of Jeep growing by 100 per cent in 2012; EMEA in general will be about 50 per cent; with individual markets such as Russia at 124 per cent and Middle East 40 per cent; these areas obviously cannot be ignored, especially as he says they do listen to customers' views.
To that effect, the 2014 Grand has actually now got a cloth option, as customers love the GC but asked for a more affordable entry level model that wasn't quite so upmarket. Ellis forecasts they will sell less than five per cent of those, but even so, wanted it to be there to appease loyal followers.
The Compass has not done well and there is every indication that it will discontinue here in the UK, going the way of the excellent budget Patriot which we really did like and mourn its passing. The hope is that the new Cherokee will redress the balance and do better here in the UK, and I can't criticise them for this way of thinking; it is dead right. It is just a shame that we actually don't have a superb, mass-friendly, medium-sized Jeep 'off-roader' to match the likes of Freelander 2 and Evoque – even if the latter will never see decent all-terrain service.
Before you scream, 'Erm… Hils… four-door Wrangler' at me, that represents a real niche market, and styling and lack of true on-road finesse puts the mighty Wrangler (along with the Defender, of course) out of this bracket. The Wrangler is here to stay in its excellent form, as long as the Americans continue to buy it in shed-loads, but we all know the Defender is about to morph spectacularly…
So, I look forward to driving the new Cherokee. The styling doesn't offend me, and it does at least have a locking rear diff in the 4×4 Trailhawk version, so that is some way to appeasing us. And I hope it sells better than the very disappointing Compass. Ellis didn't comment on forecasts for Cherokee, but expects to shift 1500 new Grand Cherokees in Limited Plus mode, as the most popular in the UK. And we are assured that it won't lose its true heart: "It will not be a new balance between on/off-road performance; we are increasing both; it will always be a no-compromise solution." Well, there's a happy thought.
Hils
---

Read Hils' column every issue in 4×4 Magazine – subscribe here!