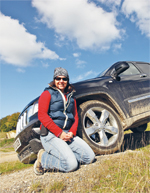 As we rightly claim the Jeep Grand Cherokee to be the bargain of the off-road world, it's only natural for a real life owner to offer her comments…
As you will see elsewhere in this issue, the subject of our Buyers' Guide this month is the Jeep Grand Cherokee WJ model. Regular readers will know that, as an owner of an aged WJ myself, it would be impossible for me not to comment on the potential of this fine vehicle as a best–value bargain 4×4 available in the current market.
Born in 1999, the WJ replaced the ZJ classic model, with the boxy lines and fuel-gorging 4.0-litre six-cylinder Italian (VM Motori) petrol engine. That engine remained, and was joined by the even thirstier 4.7-litre V8. Well, they were times when we didn't really worry too much about the price of fuel at 'who cares' pence a gallon/litre. In September 1999 came the real serious revolution that gave birth to the luxury 4×4 diesel engine concept for Jeep.
Jeep introduced the 3.1-litre CRD VM to the range and – the real 'wow' factor at the time – it was mated to an auto 'box. The Grand was never available with manual transmission, and so it was a real revolution. Then, in October 2001, the 2.7 CRD was introduced after the joining of forces with Mercedes-Benz. This MB engine is what powers my WJ and has proved a huge seller, improving fuel economy, top speed and acceleration.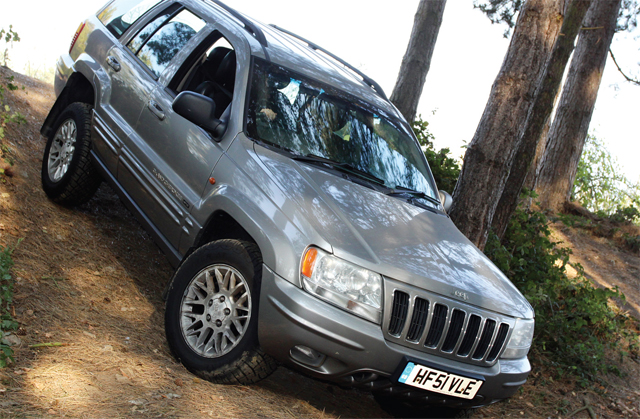 They were everywhere in the early noughties, and still are prolific today. You see fewer of the uglier, low-slung WK model that came out in 2005. We have not been a big fan of that model and shouted hallelujah for the appearance of the excellent WK2 that superseded it.
With the update of the WK2 out this year – see my debut report on page 18 – it means that prices of older models will be coming down again, even though 4×4 prices are holding their own pretty well these days, thanks to the boom in the SUV market and some unpleasant winters in the UK recently. As a bargain buy, I can only say that the mighty WJ has to be high, if not on top, of your wish list. For a start, it is a proper old-fashioned 4×4 with low range and superb off-roading performance, thanks to the excellent Quadra-Drive/Trac system, suited to being lightly modded, an excellent tow vehicle with its 3500kg rating and a pretty pleasant on-road drive.
No, it's not the most sophisticated on-road animal, compared to vehicles built in the last five years, thanks to live axle suspension, but when you're paying only a couple of grand or less (check out our Buyers' Guide on page 98 of this issue) for a Limited spec, early '00s' vehicle that is, at best, nine years old or more, what are you expecting? That couple of grand, depending on condition and mileage, gets you a lot of excellent 4×4 for your money. Its cargo area is brilliant, better than the box that is the age-equivalent Land Rover Discovery – you get a reasonable spec with leather, heated seats, cruise control with steering wheel controls and a decent automatic gearbox.
There are a few around on the second-hand market as owners reluctantly part with them for whatever reason, probably just because they want a newer vehicle. The most recent you can hope to get is a 54-plate which is old enough, but I would rather do that than shell out several thousand more for the Daimler-biased WK from 2005 onwards.
My 2.7-litre CRD is a bit below average mileage at 93,500-odd, and it still has plenty of life left in it. I have had to replace the auto 'box for a reconditioned item, which took months to sort as it coincided with the Chrysler Chapter 11 episode and Mercedes-Benz halted all supply of parts until the Fiat deal was confirmed. I felt bereft as my Grand languished on the auto specialist's forecourt 40-odd miles from my home. It was fantastic to get it back finally; I felt like I'd got a right arm again.
My Grand celebrated its 11th birthday in January and I do feel that it is perhaps time to replace it. I don't need so much space any more, but it is so difficult to part with it after six and a half years, as I love it to bits and am struggling to find a decent replacement that is four/five years old. I want a real 4×4 that doesn't look like a house brick, or a morph of every other SUV on the market, and cost a small fortune to run. My WJ regularly delivers me 30ish mpg, which really is good for such an old bus that was built in the days when fuel consumption wasn't considered such a bane of everyone's lives.
So, if you are looking for a traditional 4×4 with brilliant cargo-carrying capacity, a top-notch when it comes to towing and general saloon-like performance on the road and very comfortable off it, and only have a few grand to spend, then I urge you to shell out those grand for a Grand. It will be hard to find a comparable vehicle elsewhere that still cuts a dash on the highways.
Meanwhile, I will start to hunt for a suitable replacement. Then again…
Hils
---

Read Hils' column every issue in 4×4 Magazine – subscribe here!