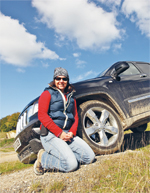 Having recently attended the Goodwood Revival, Hils yearns for the 'good ol' days' when vehicles have character
Despite all the hype over the latest luxury new SUVs, you can't avoid the fact that, in terms of styling, they all look very much alike these days; which has prompted me to hark back to times when so many vehicles had class, style and –that rather forgotten quality in today's market – individuality.
Whether 4x4s or not, many vehicles designed up until, let's say, the mid '60s, had a touch of elegance about them. They still look cool today and some can even cause a distinct stir in the loins!
There is nowhere better, these days, to enjoy such amazing old machines than the Goodwood Revival. Held in mid-September since 1998 on the estate of Goodwood House in West Sussex, it runs over three days and attracts over 150,000 visitors. Only pre-1966 vehicles are allowed to be displayed and race on the famous Goodwood track.
I have been for the last three years, having first been seduced by the fantastic event thanks to our good friends at Jeep. In 2011, Jeep celebrated its 70th anniversary and organised special events at Goodwood to mark the occasion. They also sponsored the event, so the Jeep flag was flying everywhere. I wrote a feature on the event, which was a pleasure to do.
Jeep vehicles always have a firm presence at the Revival as Willys models are used to transport people around the estate by drivers in splendid military garb. You'll also see plenty of Series Land Rovers pootling about; the most obvious of which is the gorgeous baby blue Series II recovery pick-up truck from Everymans Garage in nearby Chichester that sweeps the track after every race. This year, on the Saturday, it was rather concentrating on some vintage motorbikes that had conked out while being thrashed to the limit during an eyeballs-out race.
Watching 40 E-Type Jags lining up on the grid and absorbing that immense roar as they rev up their engines ready for the off is a superb experience. Watching classic racers such as Ford GT40s race round the Goodwood circuit, drivers fighting with the wheel for control, is a true pleasure. And admiring all the fantastic costumes – if you don't dress up in '40/'50s and occasionally '60s' gear, then you feel a real twit and very out of place – is also all part of the brilliant experience.
When I went with Jeep for its 70th, Goodwood opened up the quarry, a new area previously not used at the Revival. Jeep had hired some diggers and created a good course that we could drive around and enjoy the latest models. It was a one-off, but this year I was thinking wouldn't it be great to have a dedicated 4×4 Revival area near the quarry where owners could show off their lovely 'old school' 4x4s.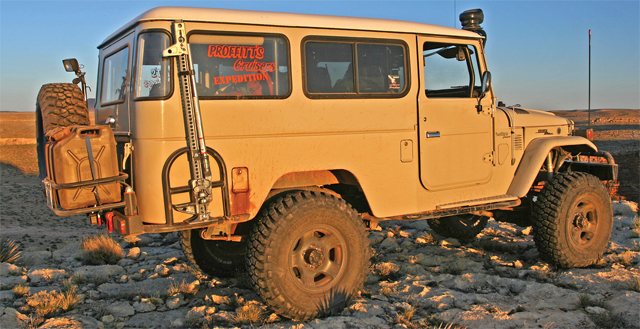 Of course, Land Rovers and Jeeps would be there, but don't forget Toyota can have a presence, as can Nissan and various other American models. It would probably surprise a lot of people to see there were other classic 4x4s around at the time. They are used to the Jeeps, driven by the military boys, and the Series Land Rovers that are dotted about, but some beautiful old FJ Land Cruisers and ancient Patrols would open a few eyes. The first example of what we now know as the Toyota Land Cruiser first appeared in 1951, known as the 40 Series, with models from FJ40 to 47; and then came the 50 series in 1967, although this is actually too late for the Revival, but am sure Goodwood's owner Lord March would allow some leeway.
When I was in the US a few years ago, on an amazing overland tour through Utah and Arizona, two of our party were driving different models of 1965 FJ45s. They were beauties, in superb condition, one in baby blue – a popular colour for retro 4x4s it seems. Against the spectacular scenery of Lake Powell, Monument Valley and the Grand Canyon they knocked modern 'SUVs' into a cocked hat for pure style and elegance.
Then there is the Nissan Patrol. Once again, it first appeared in 1951, badged as the 4W60 (later 4W61/65/66) Series. The 60 Series came in 1960 and lasted until 1980. Of course, we still get the Land Cruiser here, but the Nissan Patrol is no longer available in the UK. It's becoming easy to forget about these vehicles when they are discontinued unless you are a true enthusiast, so a timely reminder of, or introduction to, some lovingly restored and immaculate vehicles would be no bad thing. At Goodwood I have spoken to owners who have come from all over Europe and beyond with their classic cars because it has become such a major event, so am sure some classic 4×4 owners would be only be too pleased to join in.
Another Goodwood event, the Festival of Speed, does include plenty of 4x4s. Our good friend Drew Bowler has exhibited there and taken showgoers on spine-jolting rides in his flying machines. This year Nene Overland was showcasing its Icon Defender range and all the major manufacturers have stands showing off their latest shiny, luxury 4x4s. So why not the Revival? I think it's about time those outside the diehard 4×4 world were aware of some classic models other than Land Rover and Jeep. Goodwood Revival would be even better with a classic 4×4 arena and, if owners were happy, punters could be taken on off-road rides in them.
I will try and have a word with his Lordship to this end. I met him at Jeep's 70th celebrations when he hosted morning coffee and biccies in glorious Goodwood House. He was a charming chap and, I'm sure, open to new ideas. Watch this space…
Hils
---

Read Hils' column every issue in 4×4 Magazine – subscribe here!