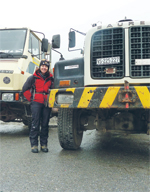 This month, Hils takes some R'n'R in the Swiss mountains but, as you would expect, still manages to seek out some fascinating 4×4 life
One of the best parts of this 'At Large' role is that I get out and about and meet people and their 4x4s. One of my particular favourite features is the 'Professional User', as getting close to real everyday, sometimes hard-core action is what this is all about.
However, much we get pilloried and abused in the press for our 4×4 use in this country, there will always be a need for the four-wheel drive vehicle to provide certain essential services.
One of the most enjoyable 'Professional Users' so far was this month's feature on the various vehicles used by the team at Longleat Safari Park. You'll find it on page 44.
This was not serious off-roading, but these well-used trucks work hard, all year round. I was privileged to have the opportunity to get up really close to some stunning wild animals, which the paying public is not allowed to do.
After my visit it was time to break from 4x4ing and take a holiday. My destination was the Swiss mountains, to do some serious climbing and walking. But I also happened to find some other excellent beasts on my travels.
Don't worry, this is not going to be some rambling report on Yeti-spotting in the mountains. (We actually drove one of those this week, see page100, October issue – Ed!). No, these 'beasts' concerned were some brilliant trucks that I came across on my wanderings along the mountain track.
We ski and walk in these mountains during the course of the year, depending on the season, but how many of us actually think about those who work in these sometimes difficult-to-access areas, to make sure that our leisure time runs smoothly. After I had scaled my first 4000m-peak – something I have wanted to do for many years and now finally achieved on this trip – I walked down the mountain to civilisation and came across some interesting, lovely old and battered 4x4s.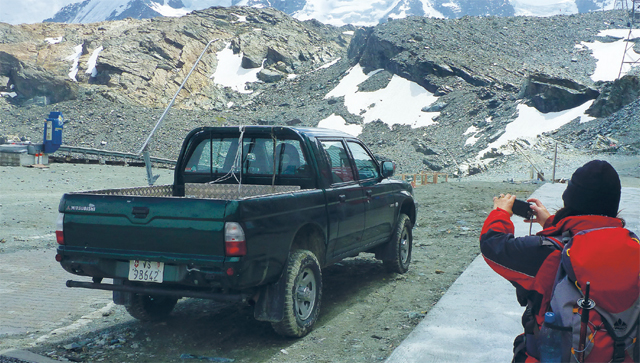 The Breithorn in Zermatt is well known as a good, starter 4000er – it is actually 4136m; just to add to my feeling of chuffed-ness – and, once climbed, you can either get a cable car or walk all the way back down to Zermatt or ride the cable car halfway and enjoy a meander down through the green alpine meadows lower down, with their beautiful wild flowers and pristine cattle dinging the huge bells around their necks.
I got the cable down to a mid-station, Trockener Steg, at 2939m as I was knackered from my epic climb and it had been an early start. I wanted to walk down to the superb restaurant at Zum See for a well-earned slap-up lunch with plenty of beer and fine wine. On disembarking the 'bubble' – skiers' word for those small cabins that have replaced the old-fashioned house-brick of a cable car from which 007 used to hang out or grapple with villains on the roof in the '60s' films – I wanted to get a shot of the mountain I had just climbed from below.
Venturing outside into the cold and low cloud I was suddenly confronted by a green Mitsubishi L200. It was sporting a suspension lift and was pretty basic, apart from some chequerplate lining for the loadbed. That truck had obviously driven all the way up here, and at 2939m this was no mean feat – if you hadn't been up to 4136m, as I just had, then you would really notice the lack of oxygen and thin air. Not so good for diesel engines. You don't see these trucks up here in winter during the ski season, but once the summer comes all sorts of repair work and construction goes on and 4WDs are essential. Unfortunately, the owner/driver of the truck was nowhere to be seen so we couldn't have a chat to find out if there were any other mods.
After that big lunch, I needed a long walk so shunned the bubble and walked towards Furi, another mid-station, where I came across the best trucks of the trip. Parked under the bubble, side by side were a huge Saurer D290B 4×4 and a Steyr pick-up – both single cabs and both had obviously clocked up many, many years in the mountains.
The Saurer is not something we see in the UK. It was originally a Swiss vehicle that first appeared in 1903 and ceased production in 1983. The marque was very well known all over Europe between the two World Wars and the company did manufacture 8×4 trucks also. This D290B is powered by a V8 engine. It sits on 22in rubber and features a diff lock with a hydraulic Power Take Off (PTO). Although the last models rolled off the production line in 1983, there are plenty of these vintage workhorses rolling around the mountains of Europe at least 28 years later.
Now, that Zermatt Saurer is a Prof User feature I'd love to get my hands on…just need a good, local and available translator (my 'O' Level German probably isn't good enough). But it'll have to wait until I can find some serious pennies and time to nip over to the Swiss mountains again. A cheap place, it isn't!