Shion Scudamore – contributor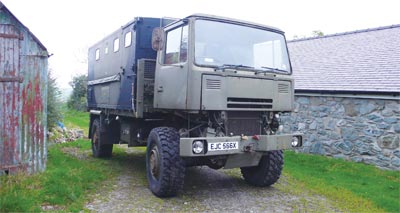 The autumn house restoration work, a fine trip down to Portugal to do a week's Enduro riding, and unprecedented surf conditions here on Anglesey have done little to move the TM project for the fast approaching MoT.
The light welding on my Discovery also proved to be a bit more than anticipated as once the needle gun was wielded increasingly larger holes appeared. Getting on with the long overdue rot treatment revealed most brake pipes were beyond saving, not great on an ABS Discovery, and the rear callipers were due an overhaul. The bottom line was I got a few lower cab panels welded on the Bedford, but have hardly started the cab floor where most of the tin worm damage resides. The pressure water system is slowly coming together; I have fitted an accumulator to give a nice even flow as the main use will be on an external shower head for post-surf trip washdowns. The Propex heater should keep the shivers at bay while changing as well. The lack of recent use has taken its toll on the alternator – the warning light is glowing so that will need a fix before too long. I have a 140amp replacement in the wings but it depends if I can physically fit it in the chassis.
My youngest son is now 11 and although no giant, is beyond sitting in the little perch on the bonnet so a suspended tractor seat has been acquired to fit the bill. The next problem, when the drive is clear of trailers full of rubble and a hopefully freshly MoT'd Discovery, is getting the heavy front gates off to get the TM nearer to the garage. This is a move that may provoke some controversy in the Scudamore household – Susi is more of a bay window, VW camper person and the TM is seen as the Great Satan even before it blocks out the light from the house!
SPECS
Model: Bedford TM 4-4
Spec: 8.2-litre turbodiesel
Mileage: 19,000
Test mpg: 11mpg
Recent Costs: none
Arrived: June 2004