Shion Scudamore – contributor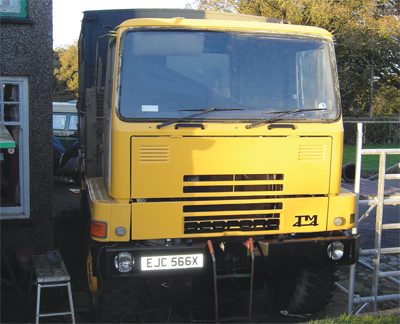 It's been some time since I put pen to paper on the progress of the Bedford rebuild, as usual life filled up with "stuff" and other projects got in the way. By popular request from my family, I now find myself the owner of a Volkswagen T25 camper as well as the Bedford, although alas not a Syncro.
Temptation to convert it has been curbed by my wife and the huge cost of Syncro transmissions. This has also meant the passing of another sad milestone, now for the first time in 33 years, I don't own a Land Rover. The Discovery has moved on to new pastures to provide some funds and time for other projects.
Anyway, back to the Bedford. We are all aware of how wet and windy the summer has been but trying to spray outside really brings it into sharp relief. I have all the major panels already sprayed but trying to finish the cab has been a nightmare and involved a lot of putting the cart before the horse to get the paint on before the next downpour.
SPECS
Model: Bedford TM 4-4
Spec: 8.2-litre turbodiesel
Mileage: 19,000 (still)
Test mpg: 11mpg
Recent Costs: New floor
Arrived: June 2004

You can read more about this Bedford in the February 2013 issue of 4×4 Magazine – available here