Shion Scudamore – contributor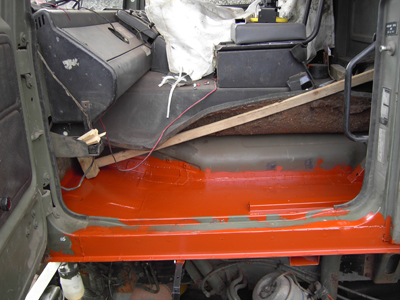 This month has seen some steady progress on the Bedford but the forthcoming MOT looks like it will have to be put back, as progress has not been good enough to actually drive there! Both passenger and driver side floors are now replaced which was the lion's share of the MOT work, but I need to plate some cosmetic holes on the cab roof and in the cab back panel. I have started to re assemble the birdcage of mudguard supports as these have all been sprayed now.
The KAB suspension units were fitted to the Range Rover seats but this revealed excessive play in some of the pins, not something the MOT man is going to like, so it has been a case of dismantling and repairing them. Next on the list is the laborious task of fitting (the very necessary) soundproofing in the cab. The 'proper' material is top quality but way beyond my budget so I have been gathering off cuts left over from engine room insulation. The net result will be a patchwork but it should do the trick and will be covered by the rubber mats anyway.
SPECS
Model: Bedford TM 4-4
Spec: 8.2-litre turbodiesel
Mileage: 19,000
Test mpg: 11mpg
Recent Costs: pots and pots of paint
Arrived: June 2004
You can read more about this Bedford in the September 2011 issue of 4×4 Magazine.