Shion Scudamore – contributor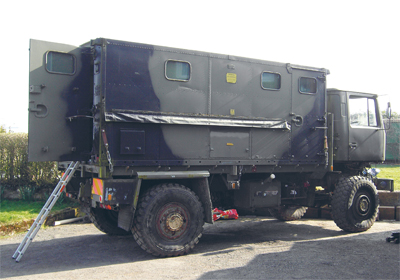 This month has again seen a bit of progress with the TM, I finally got the driver's floor replaced with sections I had folded up by a local fabrication company. So far I have got through the best part of an 8ft x 4ft sheet of 1.6mm steel replacing all the rotted sections, I think it's safe to say most of the cab below the doors seems to have been cut out and replaced. I have a mountain of lower cab panels for grit blasting so they can be sprayed up before reassembly, some final welding work needs to be completed first. The temptation to restore the cab to pristine condition is always nagging at me but I need to be pragmatic, as I want to get her back on the road for the summer.
I have also started figuring out how to mount the Range Rover seats on some KAB suspension units I have acquired, again this won't win any friends in the truck restoration circuit but the original Bedford items were past their best and hardly the most comfortable. I did at last get around to ordering the paint, it's an industrial RAL colour two-pack poly so hopefully it won't fade as badly as some of the single pack truck paints but is not as costly as an automotive two-pack.
SPECS
Model: Bedford TM 4-4
Spec: 8.2-litre turbodiesel
Mileage: 19,000
Test mpg: 11mpg
Recent Costs: £110 for floor panels, £215 on paint and primer
Arrived: June 2004
You can read more about this Bedford in the July 2011 issue of 4×4 Magazine.