Shion Scudamore – contributor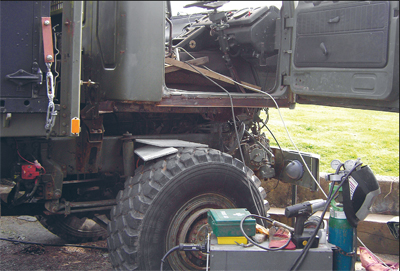 The TM has been on the back burner for quite a while, my last report appearing in the December issue last year, but now it's parked in front of the house there is more than a little pressure to get on with it! And I am pleased to say that at last there has been some progress.
A phone call to Dave Crouch proved to be particularly worthwhile as he was able to unearth some fresh panels for the cab; including much needed wings and an air cleaner stack. The wings were picked up for a very reasonable £350. There's still some work to do before they can be fitted, so when I have finished repairing the cab lower front wings these are to be dispatched to Ian Gilby's spray shop for hosing down in G4 Orange two pack. Some doors should then follow next month, budget permitting, which should save a lot of messing around trying to patch up and repair the old ones. The result will be a bit of instant progress, always important in a big project to 'see' some results and give you the encouragement to keep going!
SPECS
Model: Bedford TM 4-4
Spec: 8.2-litre turbodiesel
Mileage: 19,000
Test mpg: 11mpg
Recent Costs: £350 for new wings
Arrived: June 2004
You can read more about this Bedford in the June 2011 issue of 4×4 Magazine.