Ann Lockley – contributor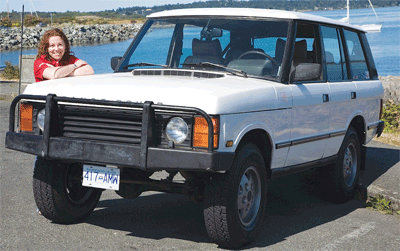 Like lost puppies, I have brought home several automotive lemons in my life but none quite like 'Kelsey', my 1991 Range Rover Great Divide Edition (GDE). Like a dog that has been rescued from an appalling situation, she had more proverbial baggage to work on and repair then I care to list, but, in the end, has proven to be the best of companions.
I came by 'Kels' in February 2007 when she was bought from a Boise, Idaho location on eBay by my good friend, Stuart Longair, to be the sister of his 'Chelsea', GDE #319. I was in need of a Land Rover to use as a daily driver that could double as a trail rig since my immaculate Rutland red 2004 Freelander SE3 was not up to the latter and thus for sale. I bought Kels from Stuart thinking that the Range Rover would be an extremely capable intermediate vehicle until I could import a 110 from the UK.
Although her mileage was high at 230,000 miles the pictures showed her to be in almost new condition throughout and it was obvious her previous owners took extraordinarily good care of her. My first clue, however, to what I was getting myself into with a high-mileage Rangie should have occurred when the paperwork from the eBay seller came with a big 'as is' stamped on the invoice. My second clue should then have been on our inaugural road trip when I flew to the States from my home in Canada to pick her up and she would not shift out of first gear until she was up to temperature. It only went downhill from there.
From being on the end of a 15-feet tow strap for three hours at 75mph down one of the worst stretches of Freeway in the States, to the complete explosion of a new radiator hose in the middle of a missile testing range, to winching her out of the middle of a highway in California when she just fl at out decided not to run and there were no vehicles big enough to tow her out of the way, this Range Rover could be the poster child for rotten lemons everywhere.
At 265k miles, the list of repairs and new parts is far longer than the list of upgrades, but now that she is nearly a brand-new 1991 Range Rover, more modifications are planned. These include Rover Tyme rear radius arms, Tom Wood custom driveshafts, upgrading to heavy-duty suspension with 1 to 2in lift, a fridge, VHF radio, SPOT, solar charging system, on board air, more aggressive tyres and eventually a diesel conversion.
For all her quirks and history of hitchhiking on the back of fl at deck tow trucks, Kels has proven to uphold the Land Rover name; she has never broken down on a trail or proven incapable of surmounting an obstacle. At the time of writing this, she is two-thirds into a 15,000 mile/three-month long trip through nine states with two thousand of those miles off-highway.
What happened to my dreams of importing a 110? Kels ate up the necessary funds and with what I have put into her versus what she is worth, she will be in my garage for the rest of her long and one day, hopefully, trouble-free life.
SPECS
Model: 1991 Range Rover Great Divide Edition
Spec: 3.9-litre V8
Mileage: 264,482
MPG: 13mpg with roof rack/roof tent
Recent costs: three-mile tow when she stopped dead in California only to run perfectly when off the back of the tow truck!
Arrived: Feb '07
GREAT DIVIDE EDITION
Land Rover made its North American re-launch in 1987 with the Range Rover. Tom Collins, fresh back from the Madagascar Camel Trophy where Range Rover TDs were the feature vehicle, teamed up with Bill Baker and the sadly recently departed Spen King to show the US public what a stock Range Rover was capable of doing.
"Having a vehicle that could go anywhere in the world and had done that," explains Collins, "allowed us to develop exotic adventures that would demonstrate the vehicle's capability and accomplish something environmentally positive at the same time. We had to come up with something unique to show all its capabilities. 'The Great Divide Expedition' was the answer."
The trip spanned two weeks and covered 1200 miles through Colorado from Wyoming to New Mexico, crossing the Continental Divide 15 times.
To commemorate the expedition, 409 Great Divide Editions were built. Based on 1990 specs but sold as 1991s, the limited edition vehicles included a numbered brass door jam plaque on 400 of the 409 vehicles, a Great Divide decal on the tailgate, rear lamp guards, an aluminum front bush bumper, American walnut dash accents, five-spoke aluminum wheels and a solid sunroof.
UPGRADES TO KELSEY SO FAR
• Discovery I transmission/transfer case (LT230)
• Tru Trac limited-slip differentials front/rear geared to 4.11
• Old Man Emu Medium Duty shocks/springs
• Dunlop Radial Rover 235/85/16s
• Disco I 24 spline axles
• TMax 9500lb winch
• Master Pull Superline XD synthetic winch line
• Pull Pall w/ Four Trek mounting system
• Baja Rack Custom EXP Rack
• Mombasa roof top tent
• Dual batteries
• Custom rear compartment drawer system
• CB radio