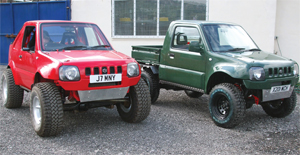 After establishing a well-earned reputation in the world of off-road competition, KAP Motorsport has moved in an intriguing direction. Check out these excellent Suzuki Jimny specials. Admit it, you want one…

Words: Hils Everitt Photography: Hils Everitt, KAP Motorsport, Alan Coutts
KAP (originally Keighley Automotive Painting) has veered away from the Suzuki 4×4 racing side, preferring to concentrate on saloon cars, but its Suzuki credentials are still very much to the fore. Converting Suzuki Jimnys into pick-up trucks for commercial and utility purposes has become a core part of its business and it is proving highly successful. "We have converted five so far this year; it's a very steady, good business and they are becoming more and more popular," explains KAP founder and owner Darren Wilson. "It takes about two weeks to do the conversion; it has to look right and be totally in proportion, which has taken a while to perfect on a compact-sized vehicle." He loves Suzukis, especially Jimnys, and is extremely proud of the fact that his trucks are dotted all over the British Isles, working very hard for a living.
Farmers, groundsmen, foresters and all manner of people working on the land and in the great outdoors make up his customers. "They want something light, easy on fuel, easily manoeuvrable, but offering more comfort, safety and space than the traditional Mule or ATV, whatever you want to call them," he continues.
The Isle of Jura is a remote place where you'll find one of Darren and staunch right-hand man and friend Roman Baraford's Jimny pick-ups. There, it works for a local log firm, although it needed a bit of modding even after the truck conversion, as it blew over on the hillside in very high winds; "We subsequently had to fit a roll cage," smiles Darren, "just in case it happened again." That is a rare occurrence and the only mishap to have been reported by any of KAP's Jimny truck owners.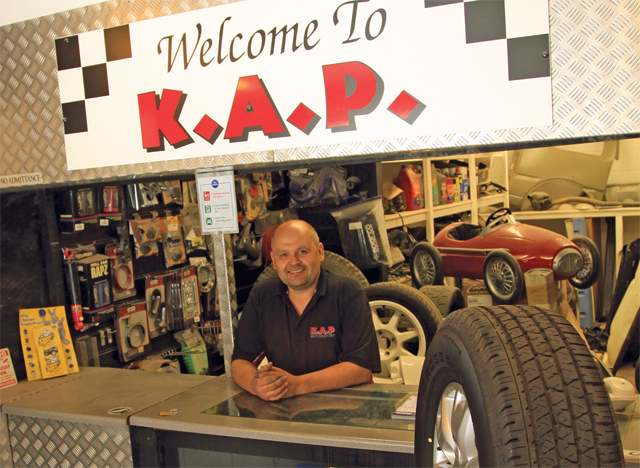 As you'll see from the pictures, this conversion is a beauty, but it took some trial and error and endless design changes to make sure it became a "smooth, aerodynamic bubble at the front which morphs into a truck at the back." The biggest hurdle was remoulding the rear panel behind the door to fit the line of the newly created cab. Painstaking work went into lining up the truckbed top to the door lines for a smooth transition.
CONTACTS
www.kapsuzuki4x4.co.uk
Email: [email protected]
Tel: +44 (0) 1535 610840
Facebook: kapmotorsport

To read the full report see the September 2013 issue of 4×4 Magazine. Buy it here