Winter 2013 Issue of 4×4 Magazine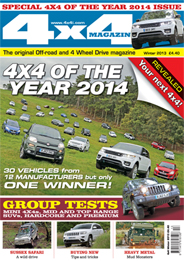 Welcome to the 4×4 Of The Year issue. In many ways, this is the most important issue we produce, where we get as many of the latest 4×4 models to one venue and decide which one deserves our respected and coveted award. We've been doing this massive group test for a long time, some of us don't even want to think how long, and this year was as good as ever with some highly significant models on test for the first time. When they were all parked up, we added the value and found that we now had a box of car keys (or key fobs) for vehicles with a total value of over £1.3million! Quite apart from blinking a little at the responsibility, and the fear that at some point we would surely mislay a set of keys, it was interesting not just to wonder at the total cost, but the variety. The enthusiasm for new 4x4s is indeed a broad church.

This year we had a number of new SUVs, together with a couple of brand new mini 4x4s and a couple of highly significant models at the very other end of the food chain. And that was despite the fact that we had no Toyota Land Cruiser this year, no BMW X5, and no popular Nissan X-Trail, all because brand new versions are on their way over the coming months but had not been released in time for our test. The world of the 4×4 is booming it would seem. Indeed we had hoped to have a new Chinese SUV for this year's test, but it seems that will be next year, as will the new Jeep Cherokee… and probably half a dozen new offerings from Jaguar Land Rover!
Now I'm not going to let the cat out of the bag here and comment on the winner, hopefully you will enjoy reading through the issue to discover both our final result, and the process that got us there. What I can say here is that on a personal level, the quality of all the models tested impressed. Yes of course the Range Rover is awesome, if a little large and ostentatious for my taste. Its Sport brother is sensational, and perhaps surprises more for its on-road dynamic ability than the off-road prowess to which we have all become accustomed. In the middle of the bunch are some extremely competent SUVs, vehicles to match all tastes; from the conservative, but superbly built, models like Honda's CR-V, to the more individualistic Subaru Forester. Even the Dacia Duster has a charm, and more importantly, an obvious market out there. It also has the toughest, and heaviest, front skid plate that shows the manufacturer does expect the owner to take it on the rough stuff. Any manufacturer that makes that obvious is OK with us. Then down in the cheap seats, we had two new 4x4s from Fiat and Suzuki; similar in size and cost, yet chalk and cheese in terms of character and, we suspect, potential owners.
When compiling all the tech specs and panels for the magazine I was amused to see that you could probably buy seven Fiat Panda 4x4s for the price of a Range Rover. OK, so the sums don't quite add up, but I'm assuming you would get something of a discount if you wanted seven Pandas. So, accepting my maths, is the Range Rover seven times 'better' than the Panda? I guess it depends exactly what you are looking for. Yes the Range Rover is particularly astonishing in its technical wizardry, but the Panda's two-cylinder 875cc turbocharged engine is pretty clever as well – albeit sounding like something from a stationary steam engine fair! That's the joy of the world of 4×4; a Panda and a Range Rover can be matched, can be discussed in the same breath, and most importantly, can be taken off-road and enjoyed enormously.
Here's hoping that you enjoy the issue.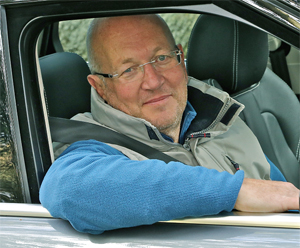 Nigel Fryatt, Editor

Buy your copy of the latest issue of 4×4 Magazine