September 2015 Issue of 4×4 Magazine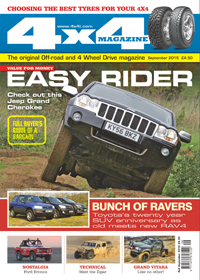 We like a bit of nostalgia here on 4×4 Magazine; not in the tedious 'it was better back then' fashion, we just enjoy looking back and reflecting. This month we have been able to do this both directly and at long distance. Firstly we recognise the qualities of the original Toyota RAV4, driving a superb rebuilt version from Toyota GB. The RAV4 has been celebrating its 20-year anniversary this year, and the company decided they needed an original to add to the company's growing heritage fleet, so they bought one – on eBay! Now we all know what was going to happen next, don't we? The full story is on page 44 of this issue; suffice to say here that the project wasn't quite as straightforward as first thought. The result, however, was a joy to drive; a 4×4 with a lightness of touch that you don't get with today's corpulent, heavily insulated, high tech, computer laden, diesel thumpers. It felt fresh and relevant and surely now deserves to be called a classic. Pick up any classic magazine these days and you'll find people lovingly restoring some of the most ridiculous old sheds imaginable. How on earth can a Morris Marina be called a classic? Do you really want to be seen driving a Triumph Herald? And don't get me started on things like Austin Maxis, or the ridiculously named Princess… It seems just about anything can be called a classic saloon these days; it's about time that the 4×4 world got in on the act. The RAV4 that we drove this month, and the original Suzuki Vitara we tested in our May issue are surely real classics. I know the world of the dirty fingernails and pints of real ale will be shouting about various Land Rovers, but I'm not going in that direction, since that's been done. Hare at 4×4 Magazine we want to see more older Toyotas, Suzukis, Jeeps and Mitsubishis rebuilt and returned to the roads. Who wouldn't want to look at a restored Asia Rocsta? So if you own a 'classic 4×4', then we want to hear from you. There are enough ridiculous tinny soulless salons being called classics, let's show them some star quality with some 4×4 classics!
When it comes to 'star quality' then American off-road racer Rod Hall has it is spades. This sprightly 78-year old could lay claim to be one of the most successful off-road racers in the world, but for Rod it's as much about the present as the past. This month US correspondent Chris Collard reports on Rod's original Baja-winning Ford Bronco that was dug up from the Californian sands (we kid you not), completely rebuilt and returned to Baja with Rod behind the wheel. It's quite a story. Now Rod says he has never read anything written about him, for fear of getting big-headed. Having personally met Rod, I can confirm that he certainly keeps his feet firmly on the ground… except when he's flying off-road over the bumps of Baja. He's a true classic, that's for sure.
It can be good fun looking back sometimes. Here's hoping you enjoy the issue.

Nigel Fryatt, Editor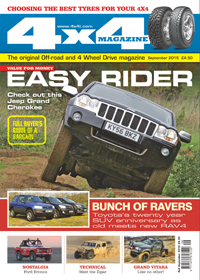 Buy your copy of the latest issue of 4×4 Magazine