Winter 2012 Issue of 4×4 Magazine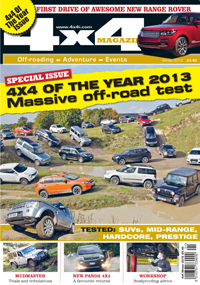 This is probably the most important issue of the year for us, when we get together a fantastic selection of 4x4s from the 'softest' SUV to the gnarliest Hardcore off-roader for our 4×4 Of The Year. This is an event that I am personally proud to claim started back in March 1986 with a mere four vehicles, all tested in Norfolk and photographed on the beach near my parents' pub – where myself and the photographer stayed to save on expenses! Some things change and some things stay the same.
This year we had 24 vehicles, plus seven pick-ups (tested next month) adding up to a retail value in excess of £1m. Now that's quite a responsibility and our test team remains small and perfectly formed, and it's a personal big thanks to Hils Everitt, Sue Loy, Bob Cooke and LRE chief instructor and ace snapper Wayne Mitchelson for the testing duties. Sitting discussing the vehicles one evening during the test week, we established we had no less than 151 years of off-road driving experience between us. For a couple of members of the team, that was a salutary discovery! Hopefully we have managed to pass on that diverse and extensive knowledge in an entertaining manner in this year's feature starting on page 26.
Of course, there's another milestone in this issue, in that it includes our First Drive of the new Range Rover. Now publishing schedules and motor manufacturing production quotas sadly didn't align for us to get the new Range Rover into our quarry off-road site in Kent for the 4×4 Of The Year test. However, the next best thing is to get the vehicle into the same issue of the magazine. Back in 1986, our coverline asked 'Can the Range Rover stay ahead of its rivals?' And to be fair, when the door trim came loose and the rear view mirror fell off, we didn't think the answer would be yes. The Shogun impressed, we wondered what Mercedes would do with the G-Wagen, and there was obviously more to come from the Japanese. Little did we know what would really happen, that the Range Rover would go through tortuous ownership wrangles, to end up with an adventurous and highly entrepreneurial Indian boss, resulting in you now wondering what, if anything, Range Rover's competitors can do simply to keep in touch.
Here's hoping that we have covered the vehicles you are interested in, that we have entertained and informed, and helped if you are considering buying a new 4×4. For many, our testers included, buying a new Range Rover is unlikely unless those annoying lottery balls fall in place, maybe this issue is the next best thing! Do let us know what you think of the magazine, we always want to hear from you. Enjoy.

Nigel Fryatt, Editor

To buy your copy of the latest issue of 4×4 Magazine click here