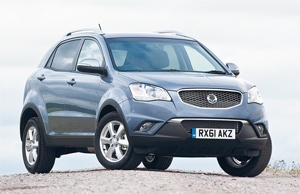 Now officially relaunched in the UK, the brand new Korando is no longer the ugly duckling that was the original model, and SsangYong is pinning its hopes of a major revival in the UK on the new crossover
Words: Hils Everitt
It's been many years since the 'ugly bug', as some would have it, SsangYong Korando was here in the UK; you see the odd one still around, but it never sold well, despite being a decent on-road drive and excellent off-roader. We were fans here at 4×4 and were sorry at its passing. Its styling didn't appeal to many, so it's no surprise that SsangYong has reinvented its 4×4 presence in the UK with a 21st century-friendly version that fits better into the smooth lines and rounded edges of the modern crossover market.
The sad thing about the Korando is that its 4×4 prowess, naturally, has now been dumbed right down – if you want low ratio from a SsangYong these days you have to buy the less 'silf-like' Rexton. There are 2WD and on-demand 4WD versions of Korando. The 4WD does disappoint somewhat after you nestled into the comfy leather seats having previously admired the exterior styling.
Once you fire up the 2.0-litre turbodiesel – the only option – it takes a while to get underway, but once you hit the open road and cruise at about 2500rpm the Korando bustles along quite happily, and none too noisily. The gearbox is a little woolly and there is some surprising transmission lag in the auto. Steering is responsive enough, and the Korean will keep you on the straight and narrow, thanks to the on-demand 4WD which feeds power to the rear if the normally-driven front axle detects some slippage in the bad weather, and there's the helpful 'lock' button to the right of the steering wheel that ensures a 50/50 split between front and rear. There's also the obligatory Hill Start Assist that all modern crossovers offer. These features may not add up to a top off-roader but will greatly assist towing.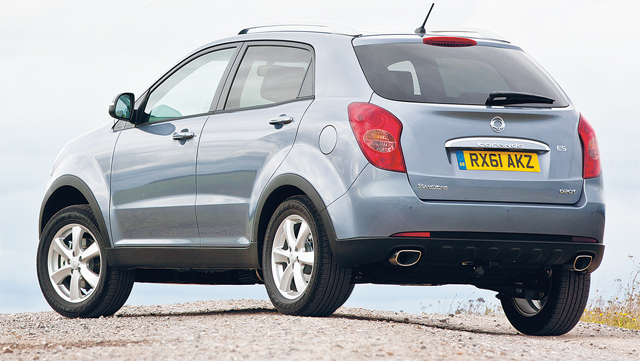 Tech Spec
SsangYong Korando
Price: £21,445/22,995 (AWD)
Engine: 1998cc in-line four-cylinder turbodiesel with E-VGT
OVERALL
We like: Five-year, 250,000-mile warranty, price and economy, exterior design, towing
We dislike: Only one engine option, vague controls, transmission lag on auto, harsh interior materials
Verdict: It's a huge step in the right direction for SsangYong, and offers an attractive price and good economics, plus a generous warranty, but has it enough oomph and pizzaz to distract potential buyers of the popular Toyota, Kia or Hyundai options? 6/10

To read the full report, including complete tech spec, see the February 2012 issue of 4×4 Magazine. Buy it or subscribe here