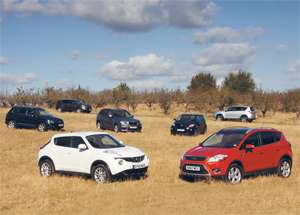 'Crossover', 'soft-roader', 'SUV' call them what you will, but this is the fastest growing sector of the 4×4 world and with extreme weather conditions becoming the norm, more and more drivers are joining the ranks of 4×4 ownership at this lower capability level. If you're looking to buy one there is a wide choice. To help with that decision we rate the BMW X3, Ford Kuga, Kia Sportage, Nissan Juke, Toyota's RAV4 & Urban Cruiser and the VW Tiguan
Words: Hils Everitt Photography: Wayne Mitchelson and Hils Everitt
Back in 1994 Toyota launched the RAV4 to much acclaim. It was a great little off-roader with low-range gearing and impressive articulation and in a little world of its own. Fast forward almost 12 years and we have a booming 'soft-roader' market to which the RAV now belongs, as low-range gearing, and those ultra hi-tech, all-terrain electronic systems are now left to the bigger, more sophisticated boys.
Many other manufacturers have jumped onto the bandwagon, and there is a healthy choice from which to pick your 4×4 that will get you home during the cold winter months in safety, but also provide a comfortable long-haul, on-road drive plus carry a few passengers and their kit. Intelligent four-wheel drive systems are now de rigeur and so adapt to the conditions, which often negates any input necessary from the driver; which is probably why they appeal to newcomers to our 4×4 world.
Ranging from just under the £20,000 mark to just over £30,000, there is a lot of space in between. But what does the market offer up for that, and depending on your budget, what is the ideal model for you? We pitched seven of the best on the market against each other, to help you decide.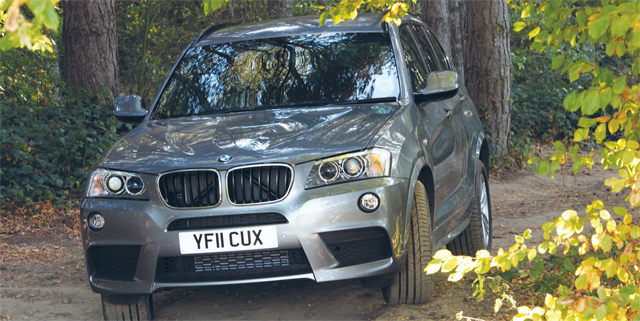 BMW X3
When you see that the model you're testing has a total options list of 10 pence over 10 grand, then you know this is one seriously specc'd up 4×4. The options list price alone is a third of the lowest price for the 'base '– bit hard to call it that, actually – at £31,140 and for a 'soft-roader SUV' form of 4×4 that is a lot of money.
Okay, so you probably get close to your money's worth with the on-road drive, which is superb. If you don't salivate while guiding this curvy, permanent 4WD Beemer on the road then you have no soul. Yes, that may be a little OTT, but the electronically-controlled dampers do afford a smooth, comfortable ride that swallows potholes and behaves similar to some bigger more luxury saloons.
We like the plush interior and two-tone leather, as sported by our £34 grand M Sport model, stylish brushed chrome trim and chunky, leather-clad steering wheel that all adds to the sporting roadster image. The four-cylinder 2.0-litre turbodiesel packs plenty of punch and if you are a fan of screeching off the lights, then you'll bomb ahead of this group's opposition in a mere 8.5 seconds – that's real hot hatch territory.
Off the road, well, for the purposes of this group, in the wintry conditions that are an inevitable part of UK winter life these days, the X3 will get you through the snow with the assistance of the xDrive system, thanks to the variable distribution of drive to both axles, and you can disengage the Electronic Stability Programme and engage Hill Descent Control for the steeper, treacherous hills and should all should be plain sailing.
There's a good deal of room to haul luggage, ranging from 550-1600 litres with the seats down, which is highly acceptable. The other impressive stat is the relative green quality in that at 149g/km the X3 boasts a figure at the lower end of emissions in this group – apart for the Toyota Urban Cruiser, which is as green as a shiny Granny Smith.
Its attributes also boast Start/Stop, which is available with the option of eight-speed auto transmission; standard with the six-speed manual. You also get Variable Damper Control to ease the ride, with Normal, Sport and Sport+ modes.
It's an impressive package with much finesse, but that price really needs thinking about hard before you commit yourself if you want a capable 4×4 in the winter with some quality on-road manners. And the 50mpg has not been proven, tests have apparently shown it gets rarely above 41mpg.

We Like: Excellent on-road ride, Hill Descent Control, interior comfort and design, economy
We dislike: The horrendous price, can get an off-roading-master Grand Cherokee for that

To read more about this group test see the December 2011 issue of 4×4 Magazine.