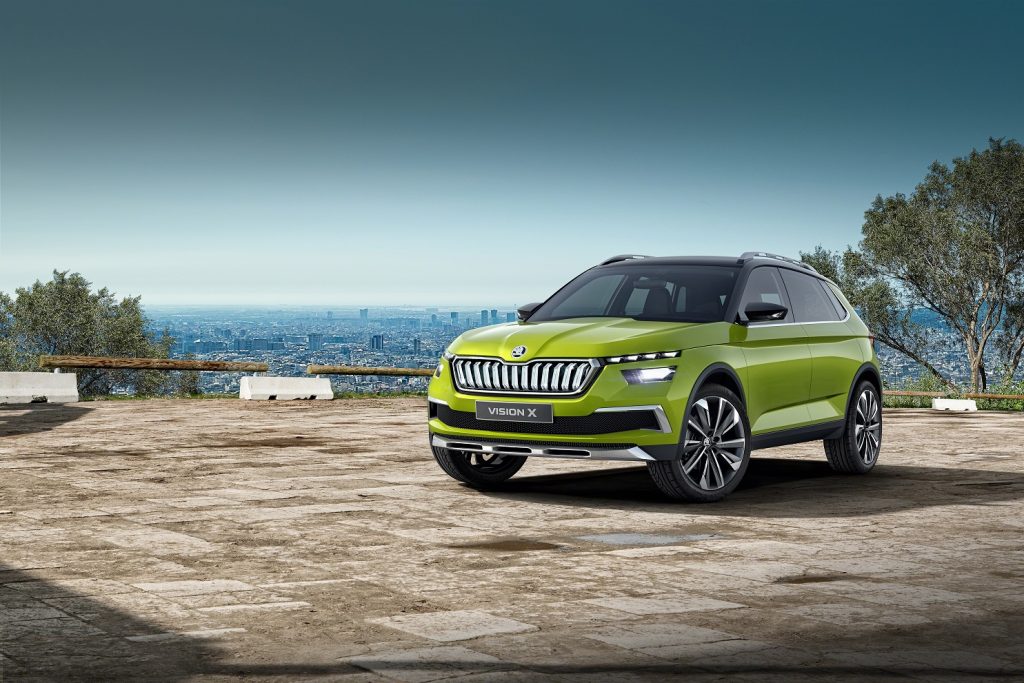 Skoda have revealed their concept SUV, the Vision X, at the Geneva Motor Show.
The concept is the first hybrid to wear the Czech company's badge, and showcases a combustion engine that runs on petrol and naturally compressed gases (CNG) for the front axle, and is supplemented by electric motors powering the rear wheels. The 1.5-litre unit has been developed to work with CNG and is fitted with a turbo, resulting in emissions of a mere 89g CO2 per kilometre.  CNG units are considerably more efficient than their fossil fuel counterparts, and the G-Tec Skoda example is capable of using biogas – something that opens the possibility of carbon neutral emissions.
Alongside the green drivetrain, images of equally green bodywork have also broken cover, and the styling of the SUV shows a sporty advance on the current Skoda family look. The interpretation of a modern crossover is a hint at what a third Skoda SUV would be and also a look forward to the future of the brand – that has targeted a plug-in hybrid Superb for next year and electrification of the whole range by 2025.
The electric motor can offer 52lbf.ft in the rear axle on demand, which will be useful off-road and compliments the 130bhp and 147lbf.ft on tap from the drivetrain. It also utilises regenerative charging when braking or coasting to keep the power supply topped up.
With front, rear and all-wheel drive selectable, the Vision X is a versatile concept. That continues inside, with infotainment extensively available thanks to a wide dash, with a large glass-like display that rises from the centre console. The concept also previews systems that do everything from find parking spaces, offer ride sharing or vehicle rental and the Vision X will even pick the kids up from nursery when you can't – or at least it would do.
To further the active lifestyle appeal of the Vision X concept, it's boot is home to two electric skateboards, charging ports and a pair of helmets plus a drone to film the knarly kick-flips and grinds. In a sentence that could be taken from a budget adaptation of Transformers, the backs of the rear seats also detach and double up as spinal protection for skateboarding.
Concepts often feel like gimmicks to simply get people interested, but the plausibility of the Vision X, plus Skoda frequently referencing it as a study, give the impression that at some point, we might actually see something like this in production.