September 2013 Issue of 4×4 Magazine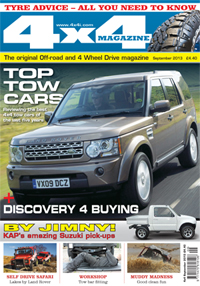 Why should selling a car be such a hassle? Finally, I have sold my Toyota Hilux. You would have thought that it would be easy. It is a great truck, well looked after, full Toyota service record and very low mileage. No commercial use – unless you include the collection of a recently felled tree that will be keeping Sue and I warm next winter. It has ARB underbody protection, and a recently fitted Mountain Top completed the extra's list. Now, I wasn't expecting to be swept away with the rush of potential buyers, but I thought I'd get a few sensible enquiries. What I wasn't ready for was the numpties, ne'er-do-wells and the not-very-nice calls.
And what is it about 'cash'? I ended having a 10-minute discussion with one potential buyer who made a ludicrously low offer, saying: 'but it's cash'. And when I said I wouldn't sell for that low he still insisted in coming and having a look. 'It's cash, you know'. So blooming what, stupid? Finally got rid of him, only for his son to call a few moments later; same offer, same 'it's cash' trump card. What a waste of time. Go away.
I also received one interesting text message. The truck was for sale on Auto Trader, and completely out of the blue, on a Sunday afternoon, I got a text offering me a very good price (cash of course) and all I needed to do was log on to www.group-autotrader.com, enter my unique 'Purchase ID' and confirm my appointment and they'd be round with the money. Intrigued I logged on, followed the instructions to find that I needed to confirm my appointment by paying them £80… I was lucky, apparently, because there was an offer on and the appointment confirmation was normally £160. Of course I would get this money back, as it was just there to avoid time-wasters. Well of course it is and my birthday was yesterday. I should point out that I'm pretty sure this has nothing to do with the Auto Trader website, and that I quickly logged off.
Thankfully, I did get a sensible call, and did the deal and the truck has now moved to Norfolk. I think all the hassle made me an easy prospect and that I sold it for slightly less than it might have been worth, but to be honest I was pleased to sell it to a genuine human being. As to what will be purchased next, the thought of returning to the fray and battling the second-hand market is quite off-putting. We will see what happens.
One other major surprise this month came when talking tyres with Alan Baldwin of Southam Tyres. I've known Alan for many years; he was behind this magazine's National Off-Road and 4-Wheel Drive show when he brought BFGoodrich sponsorship to the event. Now that seems a long time ago – has that 4×4 show ever been bettered? Don't think so. Anyway, the alarming news was that of all the vehicles (that's not just 4x4s) that arrive at the Micheldever and Southam tyre premises, a staggering 56 per cent arrive with illegal rubber, which means tread depth of less than 1.6mm. Just think of that for a moment. People are driving around, presumably often with their loved ones on board, with tyres connected to the road purely thanks to gravity, certainly not through grip. Why isn't this policed? We all know that times are tough, but it seems tyres have become an option, not a life-saving necessity. Madness. Our feature with Alan starts on page 20.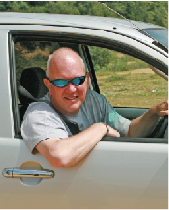 Nigel Fryatt, Editor

Buy your copy of the latest issue of 4×4 Magazine