September 2011 Issue of 4×4 Magazine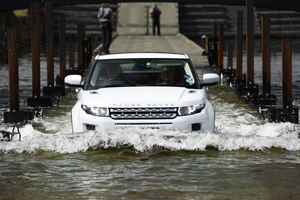 Fifteen million is the 'official' total number of Jeeps bought and sold from 1941 to 2011. Fingers crossed that my O level maths still holds true and that works out at an average 586 vehicles a day – give or take the odd leap year. That's simply mind-blowing. Driving 'Elusive Elaine', the Willys Jeep featured in this special anniversary issue (page 46), across the sandy expanses of Slindon off-road centre near Arundel, such numbers were of no consequence as I climbed, descended and splashed effortlessly about, caring only that I could stamp hard enough on the brake pedal to stop the bloody thing. It mattered not, because even the latest, wonderful Jeep Wrangler that we had for comparison seemed to acknowledge and respectfully genuflect to this marvellous old girl, without whom, would there have been a magazine like this one, or even…. whisper it…. a Land Rover? Thanks Jeep, for 70 years of 4×4. And to all those Jeep owning readers out there, why not send in details of your Jeep for our Your 4×4 Life feature (see page 94).
At the end of this year, the celebration will be for 100 years since the first person set foot on the South Pole. Getting there is the stuff of serious adventure of course, and I just love this quote: "Polar exploration is at once the cleanest and most isolated way of having a bad time that has ever been devised." So wrote Apsley Cherry-Garrard in his superb book, The Worst Journey In The World, thought by many to be the very best book on polar exploration ever written. It was first published in 1922, and covers Scott's fateful and ultimately tragic 1910-13 Antarctic expedition, when the tough gritty Brits were beaten to the South Pole by the cool, calculating Norwegian, Roald Admunsen. It took Admunsen nearly two months to get there; Jason De Carteret is aiming to be there in less than two days, 21 hours and 21 minutes. Mind you, he's not going by dog sled, he's driving what is probably the most awesome (road legal!) off-road machine it's ever been my delight to drive. A roaring supercharged V6, in a chassis that started life as a mundane Toyota Tacoma, and we've driven it in the mud, in Kent. Jason aims to beat the World Record for the fastest, unsupported, motorised trip to the South Pole and he aims to get there exactly 100 years after Admunsen. The full story of the vehicle and the expedition are on page 20 of this issue.
Also this month I have jumped from the basic seat of a 1941 Jeep, to the sheer comfort and cosseted fitted leather seats of the 2011 Range Rover Evoque. More importantly, we have driven this new vehicle on, off and even under the road (see page 32). It's a highly impressive machine, and after our off, and under, experience, it is certainly worthy of the Range Rover name. Without a shadow of doubt, it has raised the bar for quality production off-roaders. With a price range from £28,000 to a serious £40,000 the words 'so it should be for that money' can be heard from the cheap seats. But even for those of us – and this certainly includes this writer – who will never afford a new one, it is great to see Land Rover produce such a vehicle. The new Evoque must have led to some serious head scratching in other manufacturer boardrooms. And when at full capacity, one Evoque could roll off the production line at Halewood every 70 seconds. That's one vehicle produced quicker than it's taken you to read this editorial…
Nigel Fryatt, Editor

To buy your copy of the latest issue of 4×4 Magazine simply click here