It obviously makes sense to start this Jeep project with a basically sound vehicle, safe in the knowledge that the mechanicals and body are up-to the task of the future modifications we have planned.
Words and photography: Matt Carson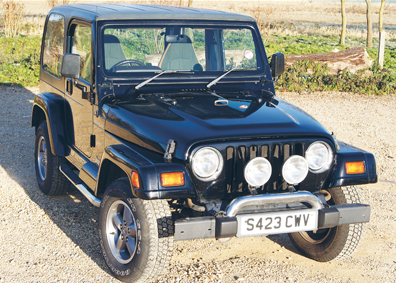 I'm not going to be happy discovering the frame's as rotten once we've installed the suspension. A 'getting the basics right first' approach is good advice when modifying any vehicle. In this Jeep's case, we have a fair bit planned, so spending some time and effort early on will – hopefully – help us avoid any nasty surprises further down the line.
Now the image with the Jeep Wrangler is often crawling up sun-baked rocks in the deserts of North America, or maybe posing along Santa Monica boulevard in California; shades on, wind in the hair. Sadly, Jeep Wranglers in the UK have 'enjoyed' a lot more moisture in their lives and moisture, road salt and metal, will turn to rust if not cared for. When you are looking to buy a Jeep, try not to get too carried away if it looks good on the outside, if it's the colour you want and the wheels and tyres look great – you need to get down on your knees. Always have a good look underneath a vehicle. It may well be difficult to see too much, but if there's a lot of caked-on mud and muck under there be a little cautious. You are sure to have asked the owner whether he takes the vehicle off-road, but let's face it, the answer is likely to be 'oh, hardly ever'. Dents and scraps on the protection plates will let you know more. Of course, if the guy is a sensible off-roader, he will have remembered that you have to clean under a vehicle like this, not just polish the shiny bits on the bodywork.
One advantage is that the Jeep Wrangler is constructed in a traditional, body on frame style, which is robust and well designed. The layout is simple (a good thing) with only one notable rust trap, which is the front of the fuel tank skid plate. Other potentially problematic areas such as the rear wheel arches are well protected by plastic liners. The well-designed chassis rails have plenty of strategically placed drain holes to prevent the build up of trapped water. Make sure when you look at a potential buy, that you can see these holes. If you can't, it probably means they are blocked and if that's the case you could have some problems lurking in there! Considering our Jeep is 13 years old, it is, thankfully, in very good condition. The steel chassis is rock solid with only a few areas showing light surface rust and the underfloor is similarly good with only a few patches of very light surface rust.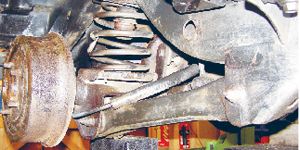 Loose rust is brushed away and suface is fully prepared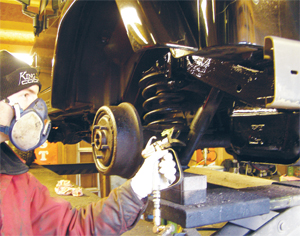 Applied warm and looks wet for now…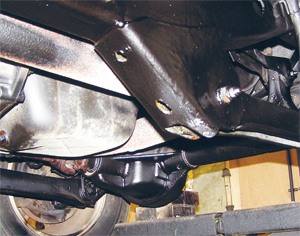 …Although dries to a matt finish over time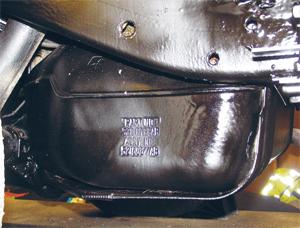 The petrol tank and skid plate are the only real rust traps…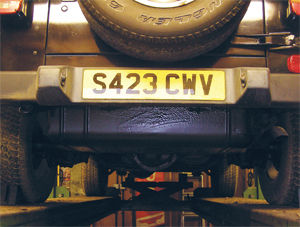 …but once treated tin-worm will never raise it's head again!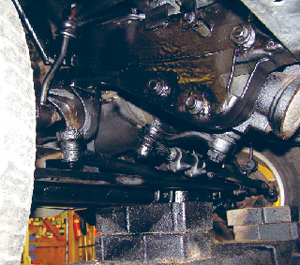 Front suspension and chassis rails protected
With all that in mind we decided to pay a visit to the guys at Rustbuster. Based just outside Peterborough, Rustbuster are masters in the art of banishing crumbly metal and providing coatings and finishes that will protect your vehicle – just what we need for Project TJ.
Now, I've seen a few examples of 4x4s with brushed-on Hammerite practically dripping off the chassis rails. This unsightly and amateur approach is not what we want for this project, we want a much more professional application and a factory look finish. So before leaving the TJ at Rustbuster, proprietor Ian Allen allayed my fears that the end result would be a gloopy, shiny gloss nightmare by talking me through process and the time involved on preparation.
First job is to steam clean the underside to remove all traces of salt and dirt, the Jeep is then dried thoroughly ready for a detailed inspection. Next, any loose rust, old coatings, sound deadening or pretty much anything else you can think of, are removed to leave a prepared surface ready for rust treatment.
Rustbuster now apply Dinitrol RC900 rust converter, this solvent epoxy displaces any water and converts the rust. The Wrangler's simple unhindered layout makes this process easy and every nook and cranny gets the treatment. Following this, the chassis cavities are injected with a MILspec ASTM wax, as are other cavities including the tailgate and doors.
Now that the surface is clean and any rust neutralised, the last stage is the application of Dinitrol 4941. This underbody wax is a 'Ministry of Defence approved' formula, designed to resist full immersion in seawater. Hopefully this won't be tested with our Jeep… The product is applied with an airless high-pressure hose and heated to avoid the need for thinning with white spirit. By avoiding the use of thinners, Rustbuster explain that this results in a high dry film finish giving excellent protection and penetration. It's also easier to atomize and spray, meaning no unsightly runs and unwanted mess.
Clever stuff indeed, and clearly a very comprehensive way to protect your vehicle. I'm confident that the Jeep will be rust free for many years. The finish looks wet in some of the photos, but true to Ian's word, it does dry to a semi gloss factory type finish and the application is to a very professional standard. To touch, the product has a slight 'give' to it, this finish helps prevent chipping from stones and maintains protection after inevitable off-road scrapes.
Contact:
If your thinking this level of protection is going to be overly expensive, you will be pleasantly surprised. Give Rustbuster a call on 01775 630958 to get a quote or visit their excellent website www.rust.co.uk to find out more.
Are you carrying out your own project? If so, we'd love to hear from you. Send us some pics and info about your project and will add them to the 4×4 Magazine website.

This feature was available in the August issue of 4×4 Magazine. To read the latest TJ project instalment see the latest issue of 4×4 Magazine.
Buy it here.