This month we visit Profusion Customs, largest importer and stockist of Magnaflow exhausts in Europe and official UK stockist. It's an exhausting business, but the Jeep's all the better for the visit
Words and photography: Matt Carson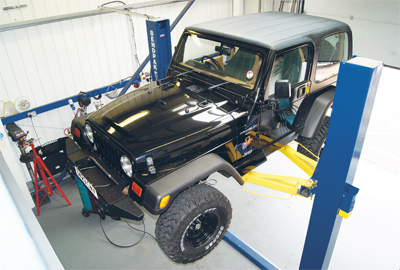 Profusion Customs is the type of company I like to deal with; a family business with a strong emphasise on customer service. The team are true specialists in that they only deal with exhausts and only sell market leading Magnaflow exhaust products. So often nowadays, companies profess to specialise in everything! Which, in my opinion, demeans the term specialist. A peek into Profusions stock room confirms this fact, it's floor to ceiling packed with exhausts and all the necessary fitting components.
After a warm welcome to the comfortable and modern premises near Heathrow, the Jeep is up on the ramp and along with the Profusion crew of Raj, Jag and Ash, we all take a look at the crusty mess that is the stock Jeep exhaust system. Most likely all original, the exhaust has done well to last 14 years but is no longer at its best. The silencer is blowing slightly and no doubt half full of rusty flakes, while the tight pinched turns of the system no doubt rob power and hamper performance. The replacement exhaust that Profusion will fit aims to release these valuable extra horsepower and present a much smoother flowing exhaust, which in turn will also improve torque and fuel economy.
Profusion supplies Magnaflow exhausts in a direct fit, pre-bent format or as individual components. This flexibility allows you to create an exhaust just how you want it. Multiple exits, side exits, louder, quieter – you get the idea. It also means Profusion can create an exhaust for any vehicle. If you're handy with the spanners you can do it yourself as Profusion can also supply all the extras such as their excellent heavy duty clamps, hangers, bends, catalysers and more. The thought of more horsepower, improved torque and economy are hard to resist, so let's get started…
First job is to remove the ageing rusty pipe and make a choice on a satin or polish finish for the Magnaflow system. I'm not flash and the Jeep is no showboat, so satin gets the nod. Raj explains how Profusion uses quality T-304 grade stainless for their systems not T-409 which can discolour and rust with age. We also decide on 2.5inch diameter pipework, as two inch would restrict exhaust flow, while three inch may prove hard to bend around the engine sump and achieve the 'high as possible' fit that I'm after. Essentially I want the exhaust fitted as snug as possible to the Jeep's underside to avoid off-road damage and scrapes. Surprisingly perhaps, this is only a minor challenge for Raj as he begins to plan the system, starting by measuring the distance between bends to clear around the sump.
At this point you begin to realise the skill in creating the exhaust, Raj takes time to plan the whole exhaust path, taking into account room for suspension components to flex and move whilst also planning the most direct patch with minimal bends. The end result roughly follows the stock system around the aforementioned engine sump and rear exit but is more direct in the middle section.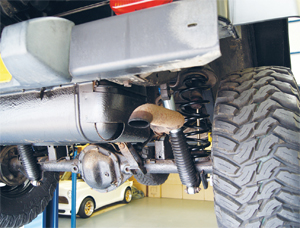 14 year old rusty tailpipe looks pretty lame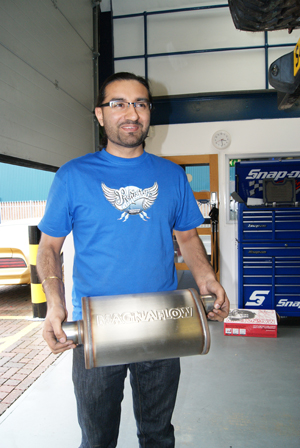 Exhaust meister Raj, is a true pro.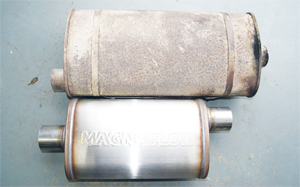 Smaller muffler will add some Magnaflow tone and release a few ponies
That's more like it, looks good, goes good & sounds even better!
At this point a suitable silencer (muffler) is chosen, I'm after an 'un-offensive rumble', to which Raj gives an appreciative nod, clearly we are talking the same language. The mufflers, as Magnaflow call them, are 100% stainless steel and feature a completely free flowing design. Magnaflow are clearly confident of their manufacturing process as the mufflers come with a lifetime warranty. At this point we also choose a replacement sports catalytic converter to replace the tired original. These catalysts promise much better flow and performance, while still meeting the UK's stringent emission's criteria. They are also impressively compact and much smaller than the Jeep original item, technology clearly making progress in the last 14 years.
The Magnaflow components are all beautifully made, a good example of which are the true mandrel bent 90 degree turns, these mandrel turns do not restrict flow as cheaper pinched turns created on a standard pipe bending machines will, as they maintain the internal diameter throughout the turn. My favourite items though are the exhaust clamps, not often you get excited about an exhaust clamp, but each to their own! I am a sucker for the detail and these clamps are so much better than the cheap items you normally see.
The Lamba sensor and header connector are the only items reused from the original system. Raj skilfully plasma cuts a suitable hole and then welds in a new boss to accept the sensor in the new system. Raj also creates the connection to the header by welding new stainless pipework to the header flange to match our replacement exhaust header fitted last month. Then starts the tricky process of routing the exhaust around the sump and then out past the gearbox and through the gap between the body underside and gearbox skid plate. Firstly Raj tapes the join to hold the position or turn angle, fine tunes the direction to ensure spot on then fully welds the joint, again in stainless steel. Finally any straight sections are cut on a industrial cold saw which gives perfect burr free edges.
The overall attention to detail is excellent and it's not long before the system is 95% complete. The last detail is the tail pipe. Magnaflow have a extensive range to suit all tastes, however, all are fully polished items and didn't really fit in with my 'no chrome' ethos already established. However, nothing seems to be a problem for these guys and a small length of T-304 was cut in to a suitable 'slash' style and buffed to give a brushed aluminium finish. Perfect.
I cannot speak highly enough of both the Magnaflow products and expertise from the Profusion crew. The system will last for a very long time and that I've bagged a few precious extra horsepower and better mpg in the process. The system is double checked for clearances and road tested before declared finished. What about the sound? Well, it's spot on. Burbly at low revs, building to a more pronounced roar at higher revs. Clearly I'm a happy customer and have no reservations recommending Profusion for your exhaust needs. Great products and professional service. Visit www.profusioncustoms.com for more info or pick up the phone and call them on 01753 686878 to find out more.
THANKS

Clearly I'm a happy customer and have no reservations recommending Profusion for your exhaust needs. Great products and professional service. Visit www.profusioncustoms.com for more info or pick up the phone and call them on 01753 686878 to find out more.
---
Are you carrying out your own project? If so, we'd love to hear from you. Send us some pics and info about your project and will add them to the 4×4 Magazine website.

As featured in the November issue of 4×4 Magazine.