October 2013 Issue of 4×4 Magazine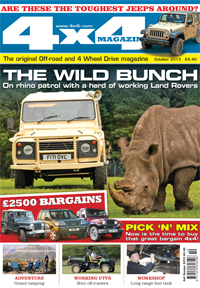 It's all the Range Rover's fault. How ironic that the issue when we decide to look at budget 4x4s, with a target price of £2500, that Bentley should announce the company is to build the 'most luxurious and most powerful SUV ever'. Now for many, £2500 is a reasonable amount for a 4×4, especially for those lucky enough to have it as a second 'hobby' vehicle that they can enjoy at the weekends but not have to use on a daily basis. We think we have made some good suggestions of where to spend your money (see page 26) but would like to hear from you if you have some better suggestions! Of course, as we were putting this 'bargain budget' issue to press, we then heard from Bentley that the company is going to invest £800m on the build of a brand new SUV.
Now, I appreciate that this is an 'investment' and is not actually a large pile of newly printed Jane Austen tenners in boxes and handed over to that Canadian chap at the Bank of England, but which ever way you look at it, Eight Hundred Million Pounds is a lot of dosh. Why would a marque, with absolutely zero history and heritage of 4×4, suddenly decide to build an SUV? Surely it can only be that the bigwigs at Bentley were getting a little concerned at all the glamorous motor shows around the world when those financially favoured Chinese, Indian and Russian businessmen were walking passed the Bentley stand and rushing to the JLR display to put their markers down on getting a new Range Rover, and perhaps a couple of Evoques while I've got my cheque book out…
But what exactly are they going to build? Bentley, as I'm sure you know, is owned by the Volkswagen Group (which also owns Lamborghini, Bugatti and Porsche) so there is a lot of experience in luxury models, and a touch of 4×4 heritage as well, I guess. But what is it going to look like? The Bentley concept model shown at the Geneva Motor Show in 2012 is probably a pretty good guide, since it looked like a finished model. To some, it looked like the result of some kind of reality TV show called 'Pimp my London Taxi'. Svelte and curvaceous it was not; loud, outrageous and arrogantly luxurious it certainly was. Of course, the parent company VW has history in this area. The Lamborghini Urus concept was unveiled at the 2012 Beijing Motor Show. Now this was a (reasonably good-looking) luxury SUV, based on the Audi Q7 platform, thereby keeping it in the family, and with a 4-litre turbocharged Audi V8 that would offer 600bhp. Will VW go into production with two luxurious, powerful, SUVs? For those of us back on planet earth, thinking about £2500 bargain off-roaders, some new SUV with a reported price tag of £160,000 is irrelevant. It's pleasing that the £800m includes 1000 new jobs at the Crewe factory, which alone makes the announcement worthy and good news – and why our Prime Minister made sure he was there when the news hit our TV screens; hearty handshakes, fixed smiles and warm glows all round. The first Bentley SUV will roll off the production line in 2016. Yes, I agree. I can wait too.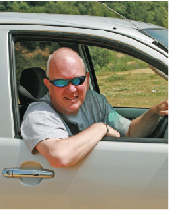 Nigel Fryatt, Editor

Buy your copy of the latest issue of 4×4 Magazine