October 2012 Issue of 4×4 Magazine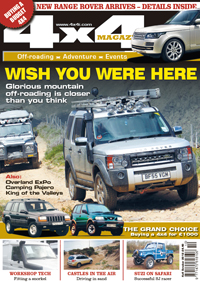 According to the old song, it can't buy you love. According to other deep thinkers, it can't apparently buy you happiness (although I wouldn't mind giving that one a serious test, after all, there must be worse things than being rich!). Money, it seems, is also the route to all evil. Be that as it may, there are some great opportunities available for 4×4 enthusiasts to spend it. For sure, when it comes to 4×4 ownership, a big pile of money can buy some superb off-roaders – including the new Range Rover that we have some sneak advance details of in this issue. However, as we have hopefully also proved in this issue, you can get a yourself a lot of 4×4 fun for not a lot of money.
We look this month at what is available for only £1000. Now, I appreciate that one man's 'only' could be another man's life savings, but when it comes to off-roaders it could be a real bargain buy. OK, so for that money we cannot claim that you won't be buying yourself a fair amount of DIY work keeping everything running well, but for many, there's no better way to spend a weekend than covered in oil, crawling around a cold concrete garage floor! The £1000 4×4 could turn out to be a real 'hobby' buy, the sort of machine you'll take to a Pay and Play site knowing that a few more scratches down the side won't make much of a difference. And if the brakes then need changing when you get home, that's not too difficult. Even a bit of body damage can be worn as a badge of honour if it's not the family's pride and joy! So, hopefully, we have shown you can spend a little for a great deal of fun. And how ironic that in the same issue we should have the new £120,000+ Range Rover…
There was a little more money at stake this July down in Wales for the King of the Valleys event. It all proved to be a superb competition and even if you don't normally follow off-road competition, this is one feature you really should take a look at.
As ever, I hope the issue entertains and informs. Do let me know what you think – especially if there's an area of the 4×4 world that you think we are missing. Most important, don't forget to send in details and pictures of what you own and drive, for our very popular Your 4×4 Life section. All the best.
Nigel Fryatt, Editor

To buy your copy of the latest issue of 4×4 Magazine click here