November 2013 Issue of 4×4 Magazine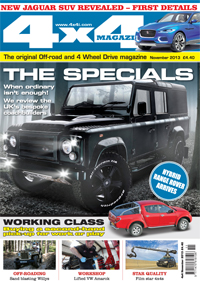 You can now buy a production hybrid Range Rover and Range Rover Sport. As you read this, order books will have opened at the dealers, and three such models will have left Solihull, journeying to the head office of the company's parent company in Mumbai, India on a massive 9950-mile promotional tour. Now, it's not many years ago that such a statement would have been thought ridiculous, on a number of levels!

The Range Rover is claimed to be the world's first premium hybrid SUV, (see page 14) yet BMW has launched a similar option at the recent Frankfurt Motor Show. There's also a new crossover hybrid from Peugeot, among others. Hybrids are cool, even for SUVs. In electric EV mode, the Range Rover's electric motor provides 170Nm of 'instant' torque. The motor also works as a generator and 'harvests' the kinetic energy generated under braking, thereby charging the battery as the vehicle slows. In EV mode, it will actually travel at speeds up to 30mph, for around a mile, before the diesel engine automatically takes over. So the Range Rover Hybrid is capable of travelling for a mile without any help from the standard diesel engine. And the point of that is what exactly?
The Oxford English Dictionary definition of a hybrid is, 'the offspring of two plants or animals of different species or varieties'. If you check older, far less 'PC' dictionaries, the definition is 'mongrel, cross-breed, of mixed race'. In other words, neither one thing nor the other; much like a hybrid 4×4.

Now that's not to say that the idea of an electric 4×4 isn't a good one; actually, scrub that, it's a great idea. An electric 4×4, with a motor driving each individual wheel is potentially the ultimate four-wheel drive machine. Then you can add all those environmental benefits that come from not burning fossil fuel (until that is you ask where the battery's power is generated, of course). But ignoring that for a moment, let's consider a Range Rover Hybrid and ask, what kind of market is there? Certainly not in the USA it seems, where the majority of those dreadful best selling hybrid Toyota Prius things are sold, because the RR Hybrid has a diesel engine and won't be sold there.
Ah, but a RR Hybrid will save you fuel as it generates its own propulsion from this kinetic energy recovery system. Yes, but is someone who has a budget of £98,000 to spend buying one bothered about fuel consumption? The hybrid is also 120kg heavier than a standard vehicle, the equivalent of having a couple of (admittedly small) passengers on board all the time. Then there's the battery life; how long before they need to be replaced, and at what cost? Of course, it does help the company's overall emission figures – and balances the supercharged V8 engine models, presumably.
JLR claims to have invested some £35m towards future propulsion technology, and that there are 260 engineers involved in a variety of projects. Work is now progressing on an all electric Evoque.Now, that's the most impressive point. The new Range Rover Hybrid should not be seen as the culmination of all this work, any more than can the electric 'taxi' Defenders that are being used to transport weary tourists up the hill at Cornwall's Eden Project. Green shoots, certainly, but let's not let a massive promotional marketing campaign blur the issue. This Silk Road drive is described as 'a gruelling expedition', but the Darien Gap it's not. There's a long road ahead before the combustion engine is sidelined and we have a completely justifiable alternative. And that road is a lot further than from Solihull to Mumbai, and far more challenging. Enjoy the issue.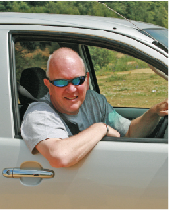 Nigel Fryatt, Editor

Buy your copy of the latest issue of 4×4 Magazine