After 35 years of hand-built production, the Mercedes-Benz G-Class remains an iconic off-roader. We get our hands on the 2014 G 350 BlueTEC both, on and off the road
Words: Nigel Fryatt and Bob Cooke Photography: Nigel Fryatt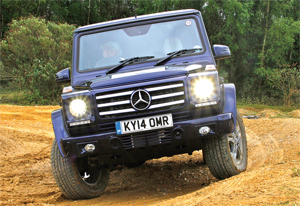 If you visit the Natural History Museum this summer, there's an exhibition called Mammoths, and the promotional poster shows a small inquisitive child standing before the massive, imperious beast, wide-eyed in wonder, but with just a touch of cautious apprehension. Standing on my drive beside our test Mercedes-Benz G 350 BlueTEC, I too felt that child-like awe. It's hard to really understand quite why this thing isn't extinct. And with an on the road price of a staggering £106,150 for a vehicle we intended taking off the road, there was a cautious nature to control my natural enthusiasm as well.
The first G model rolled off the production line in Graz, Austria back in 1979. That first model was effectively hand-built, and despite all the high tech production developments that have hit the motor industry over the past 35 years, that remains the case. Equally surprising is the fact that more G-Class models were hand built in 2013 than ever before, with a total of 10,000 being registered. Only 160 were sold in the UK, but the machine is a global icon, with the US its biggest market. At present, some 60 are produced daily in Austria. Here, the base model starts at £83,830, but there is also a more powerful AMG 5.5-litre V8 engined version, which has a starting on the road price of £124,000. So, taking our test vehicle as an average price, multiply that by 10,000 models sold and this venerable off-roader is still worth well over £1m in sales to Mercedes-Benz each year. Extinction is not likely any time soon, especially as the company has announced a significantly revised model will be launched in 2017 (see News, July 2014).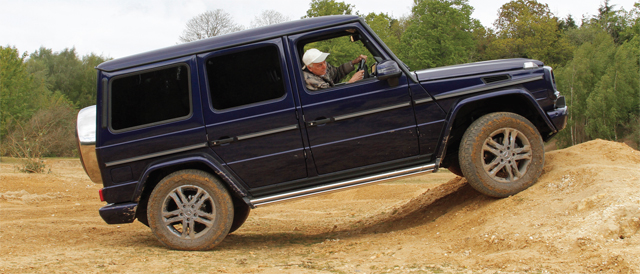 Blip the central locking key fob (something that wasn't available in 1979), pull on the door handle and you remember that the door mechanism is the same, and nothing happens until you press the door button with your thumb. Opening the door is like swinging open the door of a bank vault, heavy and solid. Our G 350 was finished in a pleasing Mystic Blue paint (a cool £2370 extra), but the interior was something of a shock with the cream coloured designo leather. The seats have a baffling display of adjustments, that in the short time with the car, we never quite mastered. The seats had that firm Teutonic stature that have you perched on rather than sunk into, but that was not really on my mind when engaging Drive and easing this mammoth off my drive and into the Surrey traffic.
---

To read the full report see the August 2014 issue of 4×4 Magazine. Buy it here