May 2015 Issue of 4×4 Magazine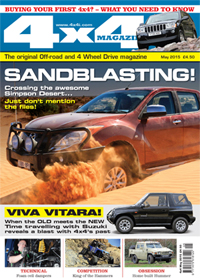 Rapidly developing technology is a fact of life. Everything gets more sophisticated, and more mind-bendingly baffling. You see youngsters using tablets while still strapped in pushchairs. Of course, it's not for them to reflect on how all this stuff actually works, they just accept this technology as 'normal'. Quizzical reflection and head shaking is left to us mature members of society, who can remember the world before everything became digital. Now, before you get the idea that this is going to be a 'grumpy ol' man' rant, let me confess that the latest 4×4 technology absolutely fascinates me. As regular readers will know, this magazine proudly covers the very latest developments of companies like Jaguar Land Rover; we are often astonished learning what is now possible. We have visited that company's Virtual Reality Cave in the design department and stood slack-jawed in our 3D-glasses, completely amazed at what is now possible. Absolutely brilliant. However, there are times to reflect…
Last month, the bedside alarm woke me at 4am, and within half an hour I was thrashing along the M25 in our long term test Toyota RAV4 comfortably ensconced in the excellent multi adjustable leather seats, listening to Radio 4 on the DAB digital radio, allowing the cruise control to keep me within the speed limits, cruising in sixth gear towards Heathrow airport, and an early – very early – flight to Frankfurt, to drive an original 1992 Suzuki Vitara. At the time, I will confess to thinking that I would be better off still in bed…
The full story of the Vitara starts on page 48 of this issue, where we are looking at the importance of Suzuki's SUV, and explain just why it is such an important vehicle in the history of 4x4s. For this enthusiast, the day in Germany for this feature will long remain a highlight. As Editor of this magazine, I get the opportunity to drive some great new 4x4s, often in some very special places, but in many ways, this 1992 Vitara drive tops the lot. Without wanting to give too much away here, the important part of the drive was that I was in an original Vitara, not a rebuilt, restored model benefiting from improved replacement parts or upgrades.
This vehicle had benefited from a charmed and low mileage life, yet switching on the ignition, I can confess to wondering what would happen; lumpy tick-over, perhaps, needing me to tickle the throttle carefully until the engine was up to working temperature. There was none of that. It was smooth and eager, belying the fact that it was some 23-years old. Off into the German traffic was surely going to be daunting, and involve frantic effort to keep out of the way of every Mercedes-Benz driver intent on proving they were as good as, or probably better, than Nico Rosberg or Sebastian Vettel. But the Vitara was nonplussed, and it quickly became obvious that it was more than capable to mix it with the modern high tech world. It was simple, but simple remains good. Manual five speed, slightly vague steering, but the wonderfully enthusiastic 1.6-litre injected four cylinder engine allowed me to have one of the best day's driving for a very long while. There were no electronic sensors to decide which wheel needed exactly how much drive. If I wanted four-wheel drive I was going to have to move the small stubby transfer lever. It was bliss. The smile from my face took some time to fade. Viva Vitara!
Here's hoping you too enjoy the simple things in life.

Nigel Fryatt, Editor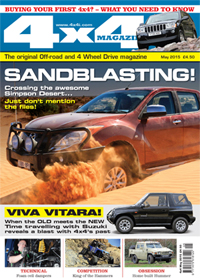 Buy your copy of the latest issue of 4×4 Magazine