March 2014 Issue of 4×4 Magazine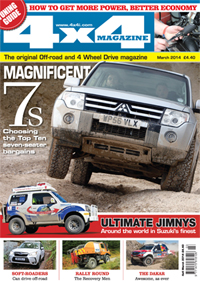 It's better to be 70 years young than 40 years old. How appropriate, this month, is that quote from Oliver Wendell Holmes Jr. Not someone I knew much about, but he seems to have been a leading light in the Supreme Court in the USA in the early part of the 20th Century. He retired at 90 days and 309 days old – which I reckon you can 'round up' to be 91 years young.
Why mention him? Well, I reckon old Wendell would have got on well with our contributor Les Carvall. Having finished a successful business career, Les sat back, relaxed but found that the tartan slippers weren't best suited for his itchy feet. But instead of going fishing or sitting in his shed drinking tea, Les decided to drive around the world in a Suzuki Jimny. Now that's quite a simple sentence to write, but it's not an easy thing to do. The physical achievement of all that driving is one thing, the organisation of getting not one, but two Jimnys around the globe through some of the remotest parts of Asia is the bit that really impresses us. You can read the full story this month and if it doesn't inspire you to actually do that trip you've always promised yourself… well then you are certainly getting old.
You need a certain maturity to compete on a rally raid event, and the Dakar in particular. For us mortals, a high-speed off-road event that covers some 5600 miles is pretty unimaginable, especially given the conditions. It's an iconic event, 'the Dakar', and this year it was totally dominated by the Mini All4 Racing machines, with seven finishing in the top ten. Now that's not a problem if they were battling it out, but sadly three stages from the end, the monstrous 'team orders' came into play and the top three Minis trundled across the finish line without breaking into a sweat. Don't know about you, but that seems to devalue everyone's efforts when that happens. Didn't impress the organisers of this year's event either it seems. What you cannot deny, however, is how impressive the domination of the Mini All4 Racing rally raid cars have been for the last three years.
Indeed, it's intriguing how Dakar domination seems to go in phases: Peugeot (1987 – 1990), Mitsubishi (2002 – 2007) and Volkswagen (2009 – 2011). And now we have had three years of Minis at the top. You can't help feeling that team orders at the finish aren't going to encourage other manufacturers into investing the huge sums necessary to wrestle first place, but someone will. Who's next to dominate we wonder? If you're a gambling man, then maybe consider Great Wall. The Haval H8 driven by Portugal's Carlos Sousa actually led the event for a while, taking a first ever stage win for the Chinese manufacturer. And another Haval H8 managed to get into the top ten finishers, which given seven of those were Minis was no mean feat.
We cannot leave Dakar without congratulating Brit competitors Mike and Susan Jones. The founder of Rally Raid UK and his wife finished the event in a highly creditable 51st position (see News, page 10). Bearing in mind that some 60 per cent of the car entries in the 2014 Dakar failed to finish at all, it's a great result. Well done, we say. All you need next year Mike is a Mini All4…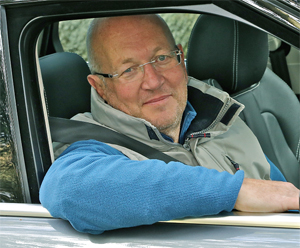 Nigel Fryatt, Editor

Buy your copy of the latest issue of 4×4 Magazine