Now the Project starts to get interesting. This month, our Wrangler gets a significant lift, and some serious rubber to make a big statement, and a big footprint. Let's go off-road and have some fun…
Words and photography: Matt Carson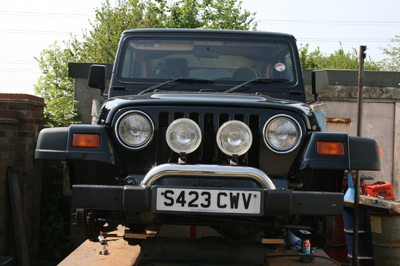 If you've been following our Project TJ, you'll know that we've now got our Jeep protected from the elements with help from Rustbuster and so it's now time to get stuck into the more exciting area of modifying. First step has been to visit the Essex base of FTE 4×4 Specialists Ltd, Jeep specialists for over 14 years. Owner Steve Fagioli, is a veteran of modifying all kinds of Jeeps, although naturally Wranglers are the most popular, so he seemed the ideal place to start. Steve will be well-known to regular readers and he certainly practises what he preaches as an active participant in the UK Jeep scene; an all round good guy who knows his stuff. Which is just as well, as the last time I looked at modifying a Jeep was 15 years ago and the market has moved on since then. With the internet at hand as a research tool and credit card at the ready, the world is your oyster, which means you need a guide!
Obviously many upgrades are linked, you can't fit bigger tyres and wheels without lifting the suspension, and once we've fitted the new wheels and tyres, we need to install fender flares to keep all that rubber covered and legal. We have also decided on the short shaft conversion or slip yoke eliminator (SYE) and with that comes with a new rear propshaft. With that in mind, this month we are covering a fair bit of ground and making some serious decisions.
Let's start with the tyres. We wanted to have a mud tyre, clearly designed for serious off-road, rather than on-road, use and that led us to contact the guys at Sinton Tyres (www.tyrespec.co.uk) who had no hesitation in recommending Cooper Discoverer STTs. Sinton is the UK's Cooper Tire specialist, the (seemingly huge) 33in x 12.5in tyres feature a heavy duty carcass with three ply protection and you can't miss those aggressive shoulder lugs which extend far down the sidewall for extra bite! The tread pattern has been developed for maximum grip but also to prevent stones sticking and collating within the tread area. Surprisingly, given the pattern, the anticipated mud tyre 'hum' at road speed is actually quieter than expected and thoughtfully Cooper has also designed in a rim protector lower down the side wall to protect the wheels from catching on rocks when seriously off-road. As an aside, Cooper Tires has owned the Mickey Thompson brand since 2003 and it's clear to see where the two companies have shared technology on tyre development. There are numerous similarities between the STT and some of the Mickey Thompson products such as the Baja MTZ and Baja Claw, which can trace their development back to 1998.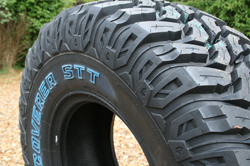 Tread pattern has been design for maximum grip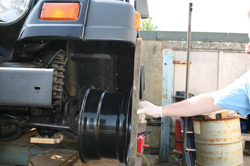 Getting the offset correct means the flare/tyre/wheel will all line up correctly
A recent drive at Yarwell quarry, near Peterborough, confirmed all that we had hoped – these tyres are quite exceptional. Grip in the mud and slop is confidence-inspiring and tenacious, as were the drier dusty climbs. The tyres never wanted for traction in any of the conditions on the site, the limiting factor was actually the fact that we were going steady and getting used to the new set-up. It pays to be cautious, even though I have owned a few Jeep CJ-7s in the past and had experience of using both all terrain and mud terrain tyres from various brands in similar sizes to these STTs. Indeed, in my humble opinion, these STTs are as good as the acclaimed BFGoodrich MTs.
The confirmation was when the TJ climbed up a very steep slope that at the top had a vertical step on one side. The slope was too steep to walk up or down, it was definitely a hands and feet combined effort. However, the TJ powered up without too much fuss at all which really is testament to the tyres as you're only as good as your contact patch with the ground. But what about when the TJ is driven onroad? Well, they are better than expected, and as mentioned above, quieter than some other brands. Mud plugging, deeply treaded and grooved tyres like these are no different to other brands, in that you need to display some caution when driving on wet roads, however I've yet to break traction and they are certainly confidence inspiring, if you drive sensibly. We now look forward to many more miles on and off-road, and will report back in future issues.
The wheels fitted are rock crawler style steel rims, nicely understated and manufactured to very high standards by Rugged Ridge in the USA. Designed for purpose rather than looks, they have already been tested at a million cycles at double their load capacity, so fair to say they should stand up to anything we're likely to throw at them. Crucially they are manufactured in the 3.75in back space necessary for the TJ. The plan has always been to carefully match the fender flare width with the tyre and wheel width, so as not to have a strange inset wheel appearance or tyres poking out illegally far beyond the fender flare. It's OK to have the sidewall bulging outside the fender, but not the tread.
With that in mind we chose a 15in x8in rather than a 10in wheel. Being powdercoated black they also tie in nicely with my self imposed 'no chrome rule' on the TJ; more stealth than bling with this project. Talking of flares, those Rugged Ridge flares you see are 7in wide compared to the stock 4in and while not cheap are a very good fit and well made. Removing the old fl ares can be a bit tricky due to seized fasteners but liberal use of some WD40 beforehand meant that we managed to reuse all the original fasteners without resorting to riveting. The side indicators are easily swapped over and were done.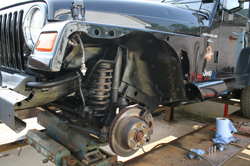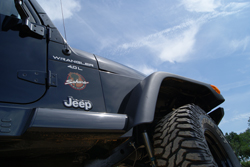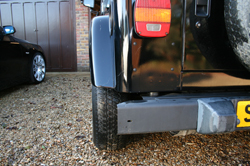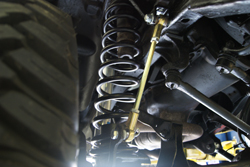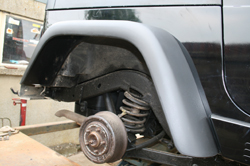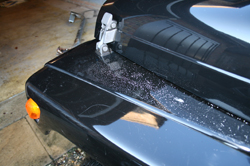 There are a fantastic variety of Jeep suspension suppliers, and each company has several systems suitable for the TJ – from simple coil spring spacers at a couple of hundred pounds to £4000 pounds worth of sophisticated 'long arm' suspension. The choice is quite bewildering, so thanks to Steve for his guidance again. After some deliberation, we opted for Rock Krawler after checking out the quality and finish of their parts. The attention to detail is very high on the components we looked at and the parts are clearly designed to ensure they actually deliver performance, not just looks. The parts are also manufactured in the United States, which is reassuring, and feedback from other customers is very good. Steve suggests we go for their 3.5in fl ex system which is a mid range offering and in keeping with our 'mild'ish' off-road intentions for the Jeep. This system is designed with 33in tyres in mind and promises good road manners and greatly improved offroad ability. Finally the double adjustable lower control arms, with a 'Monster Krawler Joint' at the axle connection, allows for a huge amount of movement. The front adjustable anti roll bar disconnects and extended stainless steel brake lines allow for greater axle travel while also give the brake system more protection. The rear track bar bracket is a serious piece of steel and perfectly re-centres the rear axle, the bracket is custom made by FTE specifically for RHD Wranglers.
The lift has several options and is also interchangeable with the more sophisticated kits Rock Krawler offer. You've got to love the Americans for the marketing hype (cue rock guitar and waving flags), however when you open the box and check out the parts, you will be impressed. Everything bolts up nice and easy, just as promised.
The kit is fully loaded with everything we need, except it doesn't include shock absorbers. The thinking from Rock Krawler is that customers will want to mix and match their choice of shocks. Steve has previously had great results with the acclaimed Bilstein 5100 series shocks, which are a single tube high gas pressure design. Some of the features include self-adjusting disc valving and independent rebound and compression tuning. They are also arguably the best looking shocks you are likely to see (assuming you find shock absorbers attractive!) and the brushed aluminium finish goes someway to justifying the cost, as they're not cheap. The shocks are specific to front and rear application suggesting a lot more thought has gone in to the valving than your average shock absorber. Early impressions are that they are living up-to the hype, though we will cover how the Jeep rides with the new suspension later. Turning now to the shortshaft conversion. There are a few versions around but basically they all do the same job. They eliminate the sliding yoke joint on the transfer box end of the rear prop shaft, which is necessary on the Wrangler TJ as it is very short and once you lift the suspension over two inches, the angle the propshaft will run will cause vibration problems such and at full articulation, the yoke could bind.
Some slip yoke eliminators involve cutting the output shaft to the transfer box down, drilling and fi tting a fl ange. Another version does away with the speedo drive cog, converting to impulse output but also making the short shaft conversion about 1.5in shorter, allowing for a longer prop shaft which helps with the higher lifts. Another advantage of fitting a heavy duty SYE is the increase in strength of the output shaft.
Of course now we've shortened the output shaft we need a new propshaft. The guys at Bailey Morris have been involved with propshafts since 1997 and will custom-make most things to order. The HD propshaft we ordered is much beefi er than stock and features double cardan joint, increased spline count and increased shaft diameter. By uprating the drivetrain wherever we can, we are adding insurance and reducing the possibilities of future breakdown.
So, how does it work and is it worth it? In my opinion there's little argument about whether it looks good, we've transformed the TJ in to a beauty… or should that be a beast? As mentioned previously, I have always found stock Wranglers to be way too mild, for me a Jeep needs a bit more height and some serious tyres. But, the real story here is not about the looks it's about the performance. Interestingly, it's actually best to start by telling you what it doesn't do: it doesn't wobble, tip, bind, vibrate, rumble, groan, shimmy or refuse to drive in a straight line. If you weren't sitting over six inches higher than stock, at about level with a transit van, you would barely notice the difference. On road the ride is smooth as a TJ can be! Cornering is controlled and things like steering lock, which could be a pain if reduced, are barely affected. In fact, you would swear little had changed. You just get more glances than before; hopefully admiring ones!
Off-road, the Jeep Wrangler is very capable, but lack of suspension travel, low clearances and weedy road tyres can all conspire to limit overall ability. That's now history for this TJ. The combination of Cooper STT tyres and the 3.5in lift solve most clearance issues, but it's the suspension fl ex, which impresses the most. After disconnecting the anti roll bar, which only takes a minute, the Rock Krawler kit comes into it's own and will happily stuff one of those meaty STTs high into the wheel well on one side and droop down the other, keeping contact (and grip), all while maintaining a near level ride. Driving slowly over obstacles, the Jeep really soaks it up and it's only when you watch someone else driving do you appreciate how much more axle movement is taking place. Of course the Cooper STTs make a huge difference over the old worn out Goodyears, but it's the combination of modifi cations that ultimately get the results here.
Recalling the first instalment of this project, the overriding goal was build a capable vehicle that still maintained on road manners and was essentially 'streetable'. That original plan largely dictates the tyre size and therefore the suspension lift needed. Building the Jeep right, means choosing complementary parts that will work together. By choosing aggressive yet sensibly sized 33in tyres, a quality 3.5in lift suspension system, suitable shocks plus heavy duty SYE and uprated propshaft, we have got the makings of a hugely capable Jeep. We now need to continue the good work so far by applying the detail that will make this a really special Jeep. Big thanks to Steve at FTE 4×4 Specialists Ltd as his huge experience of the Jeep has been a big help it getting the project to this stage.
NEXT MONTH
We head on up to Halifax to meet Jeep specialist, G-force Autos and give Project TJ a much needed service and we need to take a look at that front bumper…
PROJECT WRANGLER CONTACTS
Steve Fagioli, FTE 4×4 Specialists Ltd
07973 198483 / 01268 730131
www.fte.co.uk
Sinton Tyres
01908 665591
www.tyrespec.co.uk
Bailey Morris Limited
01480 216250
www.baileymorris.co.uk
Rock Krawler
www.rockkrawler.com
Rugged Ridge
www.ruggedridgeoffroad.com
Are you carrying out your own project? If so, we'd love to hear from you. Send us some pics and info about your project and will add them to the 4×4 Magazine website.

As featured in the September issue of 4×4 Magazine.
To read the latest TJ project instalment see the latest issue of 4×4 Magazine.
Buy it here.