June 2015 Issue of 4×4 Magazine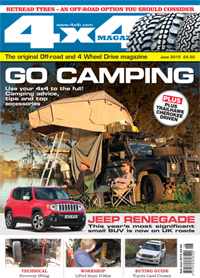 Last month we enjoyed our drive in one of the original modern SUVs, the Suzuki Vitara; in our view, one of the most significant SUVs ever produced, a model that started a whole new genre of 'lifestyle' 4x4s. Intriguing, therefore, this month we have been able to drive in the UK what is quite possibly an equally significant, but this time brand new, SUV – the Jeep Renegade. This fresh new small 4×4 could, in this writer's view, become the most significant SUV of the decade. At a time when we are regularly bemoaning the fact that SUV manufacturers are watering down the off-road abilities of their latest models, Jeep is taking a different tack. Yes, you can get a Renegade that just has the simple on-demand four-wheel drive system – indeed, you can even get two-wheel drive models – but you can also get a full-fat Trail Rated version with the highly efficient Terrain-Selec system, which even includes a Rock crawl mode, coupled to a superb nine speed automatic. For once, having the basic option does not dilute the brand, thanks to the Trailhawk option available for those who still value a decent 4×4 system. Of course, there are no transfer levers to struggle with, but there is Low Range. Yes it is electronically selectable, and thanks to the very clever automatic gearbox, hill descents and hill start assists perhaps need less actual driving ability and rather more techniques honed by computer gamers and the tablet generation, but this is 2015 after all. That we enjoyed our beach drive over the rocks and through the soft sand on a superb private beach in Scotland, was enough. In fact, it was more than enough, it was terrific! Check out page 24 for more.
Will all this be reflected on sales? Well, initial signs are very good. Amazingly, Jeep actually sold more new vehicles in March this year than it did in the whole of 2010 and 2011! Sales for the month actually topped 2190, when the entire total for 2011 was 2146, and in 2010 it was only 2078! And remember this was before this new Renegade was widely available in the showrooms. Intriguingly, it seems that the Renegade has been enticing potential new customers into the showrooms, and some have been leaving having bought a new Cherokee! And that model is about to get a boost when showrooms have the new Trailhawk version on display (see News, page 10). The Trail Rated version of the Cherokee will only be available as a special order, and comes with the V6 petrol engine, so may not appeal to everyone, but it will certainly raise the profile of the 'lesser' models in the range. (We have been testing the Trailhawk over some interesting terrain and will have a full report in next month's issue).
When you also consider that there is a brand new C-segment model due next year, that the Wrangler gets a major revision for 2018 (in time to go head-to-head with Jaguar Land Rover's Defender replacement!), and that there's a luxury Grand Wagoneer on the horizon, things are looking good for the Jeep brand. It's probably about time the company got some of the credit for its major revival, and exciting new model range, which for the last few years has been the sole proviso of JLR. All this bodes well for us 4×4 enthusiasts, and good to see the guys at JLR have got some competition at last.
Here's hoping you enjoy the issue.

Nigel Fryatt, Editor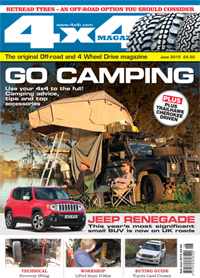 Buy your copy of the latest issue of 4×4 Magazine