June 2014 Issue of 4×4 Magazine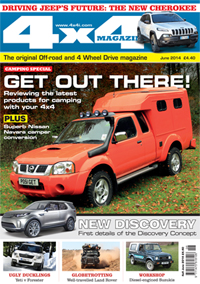 So there we have it then. You no longer need to be in your 4×4 to go off-roading. Thanks to the boffins at Land Rover, it is going to be possible to remotely control your machine while you stand out of harm's way. That's just one of the amazing new technical achievements that was announced this month by JLR at the New York Auto Show, where the Discovery Vision Concept was unveiled. Remote Control Drive 'enables the driver to manoeuvre the car at low speed while not actually seated inside it.' Can you truly be described as the driver, if that's the case? Interesting legal point should your vehicle then run over the neighbour's cat. Useful though should you need to hitch up a trailer on your own.
At present this is a Discovery Concept, so whether we are going to see all this in a production machine in the near future is still in question, but you get the idea that it won't be long. Some of it does appear somewhat unnerving, however. Apparently there's the 'next generation' of HMI, which – and I kid you not – is the Human-Machine Interface, which allows video calls between passengers. Talking to each other is obviously so passé. Any grumpy old man mockery from me does cause concern and head scratching when you learn that the Discovery's Smart Glass has 'the power of augmented reality'. Emails have been sent to Stephen Hawkings and Brian Cox to check this one out, but my understanding of the English language means that it's not possible to augment reality. Surely you cannot make something 'more real'? Perhaps this is due to the company's new commercial link with Richard Branson's Virgin Galactic spacecraft project; Land Rover Discovery bravely goes where no off-roader has gone before…
The areas of the concept that really impress, however, relate to the development of the terrain control. Cameras under the grille scan the road ahead, where the driver cannot see, and this is then shown in the head up windscreen display courtesy of the Smart Glass. The result appears as though you are looking 'through' the bonnet at the wheels and the terrain immediately ahead. Now that's a wow! Great idea – although the photograph of this sent out to the press was actually named 'LR Discovery Vision Concept Technology Teaser'. Well I was certainly teased, especially when you read further that the Discovery Concept is equipped with lasers that scan the terrain ahead, analyse it, map it, send this information to the vehicle's interior screen and a decision is made as to the best route forward. Little for the Human to do in this form of Machine Interface, since presumably the vehicle is quite capable of then following that route alone. It even has Wade Aid (an indication that perhaps there is still someone with a sense of humour writing all this) where lasers can correctly measure the depth of water before the vehicle enters. A pair of Wellies and a strong stout stick don't quite cut it anymore.
Some of the technology of the Discovery Vision Concept is simply mind-boggling, although when you think of it there seems to be more military and industrial potential than what is needed for the average owner. As a 4×4 enthusiast, JLR's announcements continue to surprise, entertain and bewilder. Where will it all end? Best you interface with the machine to check that out.
Here's hoping you enjoy this month's Infotainment Communiqué Vessel. That's 'magazine' for us old grumps. Enjoy.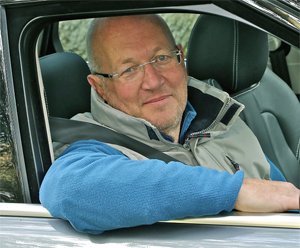 Nigel Fryatt, Editor

Buy your copy of the latest issue of 4×4 Magazine