June 2013 Issue of 4×4 Magazine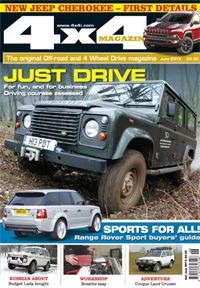 When it comes to driving, I have to admit to having done rather a lot. Besides the off-road stuff, this has included a fair bit of motorsport, including a few circuit races, lots of timed sprints and hillclimbs, one odd (very odd) sporting trial, a little rally driving, numerous multi-wheel off-roaders and even a fantastic test drive of a mega-ton juggernaut lorry around a high speed test track; block changing gears, four at a time I seem to remember…
Now none of this means that I would dare to claim that I'm any good at any of it, and the breadth of experience is simply thanks to the fact that I've been lucky enough to have been a motoring magazine editor for quite a few years. Indeed, this is being written on my birthday, and my age has now reached a decent one-day cricket score for a middle order batsman, so you have to believe I've done a bit. All of which makes the fact that I've always found off-road driving a little baffling, something of a contradiction.
The baffling bit is actually how often I have seen people driving off-road so ineptly. Again, this is not an idle boast about my own ability, far more because – especially today – 4x4s are in general so capable, that surely everyone can drive them off-road? I think the main problem can be justifiably called 'the IKEA principle of off-road driving.' When we get anything from IKEA (other flat pack furniture providers are available, and the same principle holds) the first thing we do is start pulling all the bits out and fitting them together on the 'this must go here' approach. Do we get the instructions out and carefully read through them? Do we hell. And it's often the same with people and their 4x4s it seems to me. To get the best out of your vehicle off-road, you really have to understand how they work; you have to read the manual. Different vehicles all have areas where they are good and areas where they may not be so good. Understand your vehicle, and let it do what it does, the way it's been designed, and off-road driving seems to me to be eminently 'doable'. Certainly today, so many 4x4s are just so good, allow the vehicle to do all the work and you'll look a real genius behind the wheel.
Of course, it's that next step that makes all the difference, just as with motorsport. I used to do sprints and hillclimbs and the very best drivers always seemed to be just that final 0.5 second faster. Such a short space of time, but such a quantum leap in ability sometimes kept them that half a second ahead. I was reminded of these circumstances for this issue when watching Selwyn Kendrick display his effortless, consummate ability of how to drive off-road for our feature on the AA DriveTech's professional driver course. Selwyn doesn't just talk the talk (and boy can he talk) he actually walks the walk. Getting tuition on a pastime you love, even something you think you're already good at, is just such a great idea. That's why we've taken a look at driving instruction this month, from the new courses available at BORDA set-ups, to the commercial option from the AA. Even when you've done a lot of it, there's always something new to learn. Even for us 'mature' and experienced mud-pluggers! You never stop learning, and it can be great fun to boot.
Here's hoping that there's something in this issue that's new to you. Enjoy.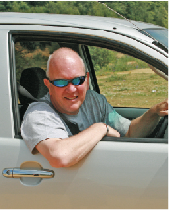 Nigel Fryatt, Editor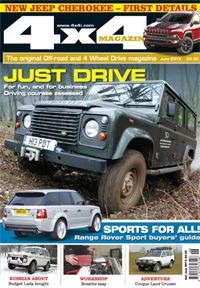 To buy your copy of the latest issue of 4×4 Magazine click here