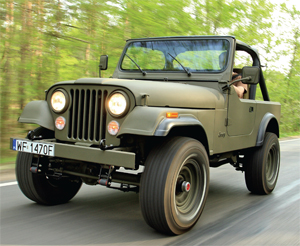 Now we don't usually cover classic military Jeeps… but then this amazing vehicle is nothing of the kind! For one Polish 4×4 enthusiast, the Jeep 'look' was what he wanted, but with reliable running gear, in this case, from standard Nissan parts! Yes, that's right, this is a Jeep CJ7 Nissan. Sort of….

Words: Jakub Chelmicki Photography: Igor Kohutnicki
The idea for this car came about by chance while I was doing an engine replacement in a friend's passenger car. My colleague Michael was helping me and he casually mentioned that he'd give me one of his four (!) Jeep CJ7s, along with all the documents and suggested I rebuild it. Now I had a set of axles from a Nissan Patrol 260, a Nissan Patrol 160 gearbox with a transfer box, together with some other junk, so since I had the axles and gearbox, the engine was not going to be a problem, and I could do the wiring by myself. This would mean that working at my own pace, I could build a car in the shape of a classic Jeep, but based on my favourite Nissan mechanics. Michael is known for really outlandish ideas, so this one was no surprise. But the more I thought about it, the more I became hooked, and the project got under way.
It turned out that the Jeep CJ7 bodywork was in particularly poor condition. Ten years lying by a fence had taken its toll… Only the hood, rear door and grille were of any kind of use, the rest only qualified for scrap. Fortunately, the Jeep CJ7 bodywork is only slightly different from the Jeep YJ bodywork, so instead of rebuilding the original, I decided to use a YJ body. When acquiring the body, I also got a full front windshield frame, seats, short doors and a box of miscellaneous items. I also decided to use a YJ chassis, rather than the original. Even my original engine option underwent changes, and I decided to use a Nissan Terrano, with a 3-litre V6 petrol engine and manual transmission.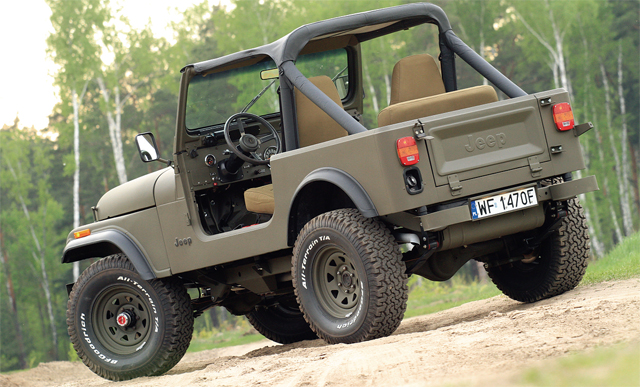 Despite the protests from several traditionalists, I decided to use Old Man Emu leaf spring suspension with a two inch lift. The Nissan's V6 engine would be mated with a transmission combined from gearboxes of the Terrano and Patrol Y61, transmitting the drive through a Patrol Y61 transfer box to axles from a 260. The interior and dashboard was to look just as in a Jeep CJ7, with only a few minor changes. From the outside, the whole vehicle would look like a Jeep CJ7. Purists will obviously notice the six wheel bolts and fuel intake on the left, instead of the right side, as should be in a CJ7, but that's irrelevant from my point of view. The paint scheme would be military matt khaki, basic upholstery, minimum trim. Some friends joked that the car was going to be trashy, but it's my car and so I make the decisions. The car would be just for fun, some casual off-roading and everyday driving as a convertible during the summer season.
---

To read the full report see the January 2014 issue of 4×4 Magazine. Buy it here