July 2012 Issue of 4×4 Magazine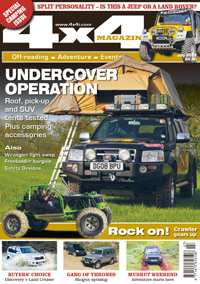 Given the dreadful weather that we had been having throughout April, it was very pleasing to wake up in the ARB roof tent to realise two things; one, I'd had a great night's sleep in what is a very comfortable space, and two, it wasn't raining and the sun was shining! Rapidly dismounting from the heights of Arbil's excellent mobile shop Ford Ranger, it was a case of ensuring photographer Ros Woodham was awake and able to get snapping.
The results of our camping feature can be seen in this issue, together with our feature getting stuck in with Ian Woolley's Mudrut gang – an intriguing cast of characters dedicated to the 4×4 game. Ian spends a lot of time in the frozen north chasing the Northern Lights, but we caught him at home in Worcestershire for a great weekend. Many thanks to him and landowner Tony Symonds for being so obliging and great hosts. Tony is a great Toyota Hilux fan, and has a great truck in the UK and an even better pick-up 'Down Under' for off-roading in Australia. More of which will be reported in a future issue.
While it remained dry, thankfully, for our camping feature, it was still ridiculously cold overnight. All of which made my quick sojourn over to Portugal to test some new Goodyear 4×4 tyres all the more welcome. The sun came out and we learned that off-roading in Portugal is the second most supported sport in the country after football! Amazing, and the fact that it is possible to drive many hundreds of fantastic tracks across the hills, only makes you very jealous.
Given the financial problems a small country like Portugal is having at the moment, it seems our moral obligation to go over there for a holiday, spend some our good ol' British pounds, enjoy fantastic off-road routes and maybe even help save the country from bankruptcy in the process. A win, win situation!
Here's hoping the sun's shining as you read this. Enjoy the issue.
Nigel Fryatt, Editor

To buy your copy of the latest issue of 4×4 Magazine click here