July 2011 Issue of 4×4 Magazine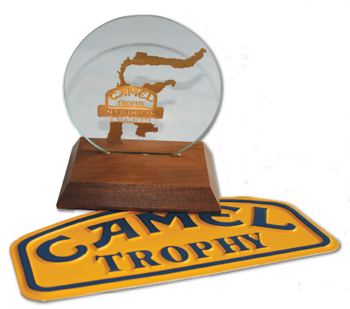 It doesn't look like much. No scratch that, that's too complimentary, it's actually tacky, looks cheap and spends all its life hidden up in the loft. It's actually the first time it has seen the light of day for years. I even had to clean it, and it's also annoyingly difficult to photograph, but I wouldn't swap it. Oh, and I am also very proud that I have got it.
My Camel Trophy, Sulawesi, "I made it" award spends its life in a box, along with my school swimming trophy, a half marathon medal and assorted awards from when I used to compete in a Caterham Seven; the trinkets and trivia of life. Mind you, that Camel Trophy event was extremely important to me and it has been great to be able to remember it this month in our regular Nostalgia series. The memories got me thinking. The whole Camel Trophy event died a slow agonising death in the end, smothered by the 'political correctness' of the No Smoking lobby. It's a great shame, because it was a superb event. Can you imagine anything today that would attract over 10,000 applicants – and that's just in the UK – and bring together off-road enthusiasts from all over the world, from Europe, North and South America, Russia and even Japan? It was a competition, and the year that I joined the British Team it was certainly competitive, but it was more than that. It was an event that allowed normal, amateur off-roaders to live the dream and drive in some fabulous places around the globe. Of course, someone had to pay for all that and the sponsorship was from a tobacco company – ironically a brand that wasn't even for sale in the UK! – but so what? This former participant is still an ardent non-smoker, so I have never missed the fags, but you have to say that the Camel Trophy is certainly missed. And sadly, there will never be the same seen again. Great shame.
Dream-like describes the Kombat T98 featured in this month's issue. Dream-like, or more likely a nightmare. Claimed to be the most expensive production off-roader in the world and "the fastest armoured security 4×4 vehicle". Mind you, that list is probably quite small. It's a phenomenal 'Mad Max' vehicle, rather like Lamborghini's LM off-roader that's been force-fed some serious steroids for a number of years in a very dark room. Awesome machine, if somewhat unnerving as to exactly 'why' it exists and who is prepared to pay in excess of £300,000 to actually own one.
A quick thanks for those readers who have started to send in details of their 4x4s for our new series, 'Your 4×4 Life'. We have an introduction on page 41 of this issue, but we still want to hear from YOU! What 4×4, or 4x4s, do you own? Standard, modified, old or new, we want to feature them in the pages of this magazine. Send your details and some high resolution photographs to the address on the right, our just email us on 4×[email protected] and we will make you and your 4×4 famous.
Looking forward to hearing from you.
Nigel Fryatt, Editor

To buy your copy of the latest issue of 4×4 Magazine simply click here