January 2015 Issue of 4×4 Magazine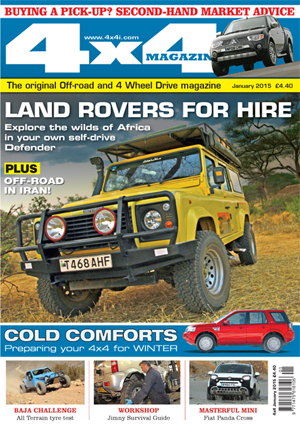 Time for a confession. I'm getting rather interested in tyres. When discussing with any of my non off-roading friends that I'm about to write a feature on 4×4 rubber, I regularly get the rather tedious, and not very funny, comment that tyres are 'black and round – what more is there to say?' Plenty as far as I am concerned, and a lot of it very interesting in my humble opinion. In this month's issue is the report of my recent experience driving 250 miles through the Mexican Baja, testing the new 4×4 tyres from BFGoodrich. This was an illuminating, entertaining and at times alarming experience, driving Baja Challenge buggies over some of the most testing off-road tracks and rocky trails this writer has ever experienced in 30 odd years of motoring journalism. For once it was not driving with a bunch of fellow journos, some of whom may think they are hotshot aces when getting behind the wheel, my fellow drivers in Mexico included actual Baja 1000 winners, and professional off-road specialists, including Rod Hall – the only person to complete all 46 Baja 1000 events! Humbling? You had better believe it.
Yet despite all the excitement of the actual driving, it was the conversations that I had with the BFG product designers and engineers that really impressed. Their enthusiasm for the product wasn't a surprise, but you have to take care in not being carried away with this seemingly OTT American exaggeration. It paid to ignore the fact that just about everything about this tyre was declared 'awesome' at one time or another. It also paid to be the 'reserved Brit' and to refuse to join in the group 'high fives' that seemed to accompany the most inconsequential and mundane comments and to concentrate on the facts. To discover that the tyre's actual design of the sidewall is based on a mathematical algorithm that 'predicts' where rocks and stones could puncture a tyre was fascinating. As was the explanation of how the tread blocks have been produced to actually 'lock' together when driven on tarmac and reduce the 'squirming' affect that knobbly off-road rubber sometimes suffers from. Then there were the compound changes to the actual rubber to improve wear rates, while also improving grip, and to understand the specific demands on a tyre fitted to a vehicle with a high centre of gravity… Sorry, if I'm going on a bit, but I find it all fascinating. You can read what my 'Baja 250' adventure was like on page 56 of this issue. Here in the UK, we will have to wait until next year before the new BFGoodrich All Terrain KO2 tyre is available, but it's not giving much away to say that it will be a very popular seller that's for sure. These guys have raised the bar in off-road tyre development. High five, anyone…?
This is our special winter preparation issue, where we hopefully offer good advice and tips on preparing yourself and your 4×4 for the adverse weather that is just around the corner. It's certainly not my favourite time of the year, but one that is faced a lot better when behind the wheel of a decent 4×4. And, of course, any 4×4 is improved when the temperature drops if fitted with a set of decent winter tyres. Now, did you know that winter tyres have a special compound, which offers better traction, grip and improved braking distances when the temperature drops below 7degC? Let me explain….
Here's hoping that you enjoy the issue. Do let me know.

Nigel Fryatt, Editor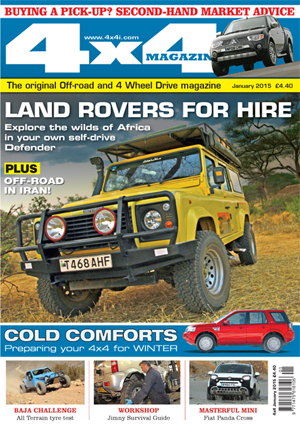 Buy your copy of the latest issue of 4×4 Magazine