January 2014 Issue of 4×4 Magazine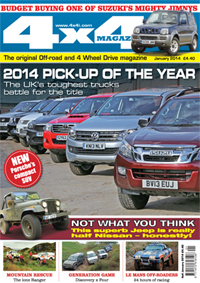 Perhaps it's a little like the expression 'after the Lord Mayor's Show', but this issue has been a refreshing return to down to earth four-wheel drives. Now, there's nothing wrong with all the shiny, brand new polished metal and exclusive leather interiors of those mega-expensive luxury 4x4s we reported on in our 4×4 Of The Year issue last month, but for most of us, they will always remain just a dream machine. I must admit that I'd be tempted with a Range Rover Sport if those lottery numbers were to come in – very tempted to be honest – but I also know that I'll survive without one. To be honest, getting the new Hankook winter tyres fitted to our long term test Grand Vitara gave me nearly as much pleasure this month.

It's a great competent little 4×4, and given the panic scare stories appearing on the front pages of some newspapers – the north wind will blow and we are due to have snow – a winter tyre is a must. Since I hate the cold winter weather it would be a lie to say I can't wait, but at least I'm prepared. It was interesting to hear two different stories from the Suzuki and Toyota dealers I visited this month; Jemca Toyota in Croydon are selling winter tyres, Suzuki in Bromley are not. What will it take to convince people? Maybe if a summer tyre shod 4×4 slides into the back of the Grand Vitara this winter when I manage to stop so much quicker, I'll get one convert. Knowing your braking distances are so much shorter in a winter tyre shod 4×4 does lead to you keep a good look in that rear view mirror.
After our 4×4 Of The Year issue, which if you missed, is available as a back issue (go to www.4x4i.com), we are back to more normal machines. Saying that, there's nothing 'normal' about the stunning Jeep we feature in this issue (see page 42). Military Jeeps are not usually something we bother too much with but when I first saw the photographs I was intrigued. Not being an expert on these things, even I could see something was a little different. It was obviously exceptionally well built, and very nicely photographed, but it wasn't until I delved into the story that I realised exactly what was so special. The amount of work that has gone into this 4×4, is only matched by the ingenuity with which it was built. I don't intend giving the game away here, just read the feature. I guarantee even if 'military style' Jeeps are not your bag (and I'm with you on that one) this is one fabulous 4×4 that I would have in the garage. Of course, I don't actually have either the ability or the dedication to build one!
Since we are coming to the end of the year as this is being written, I wondered what had been your 4×4 highlights? We are going to review the year in the next issue, but do let me know what you remember about 2013, email me on 4×[email protected] and remember to include some pictures if you can. Here's hoping you enjoy the issue.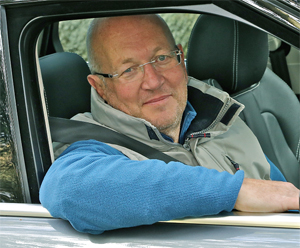 Nigel Fryatt, Editor

Buy your copy of the latest issue of 4×4 Magazine