January 2013 Issue of 4×4 Magazine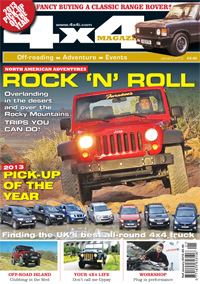 Don't know about you, but these damp, grey and cold winter months always make me think about next summer, and that's a great excuse to plan holidays. It's actually what winter is designed for, to plan what you'll be doing when it's over. This month we report on a couple of North American adventures, which you may like to consider. For myself and Sue, this was an excellent 1700 mile road trip through the Canadian Rockies in a typical North American SUV, the Ford Edge, a model due here in the coming years. The scenery and the wildlife are spectacular and the variety just amazing.
We also have a trip taken by Kev Baldwin and his wingman, photographer Wayne Mitchelson, to the legendary desert off-roading theme park that is Moab, in dusty Utah. Now, I've never been, but have seen oh-so-many photographs of Jeeps traversing the famous red sandstone structures on events like the legendary 'Rubicon'. To be honest, even as Editor of this magazine I never thought I'd ever experience it first hand – but I do now. Kev explains how you can get yourself to Moab and then go to the local hire shop, grab a Jeep Wrangler, and go and enjoy. And the best bit seems to be that when you return the hire company is going to be annoyed if the Jeep's not covered in dust: "What yer been doing, man, didn't you take it off-road?" The hire Jeeps have lifted suspension and serious tyres, too. OK, so there are some trails that are no-go for hire Jeeps, but there are many, many miles that you really can explore. Check out Kev's feature while you're digesting the Christmas turkey, munching on yet another Quality Street toffee or drinking that bottle of extra strong Old Socks real ale that you got from Santa, and start planning next year's summer holiday!
Since it is that time of year, perhaps you'll permit a little personal comment. If you're a regular reader to this magazine, may I sincerely thank you for your attention. There are times when I sit battering away at my computer and wonder if anyone is out there! So to all of you, please accept my genuine thanks and greetings of the season. And if you are a new reader, here's hoping that there's enough in this month's issue to tempt you to stick with us throughout 2013. Couldn't do any of this without you.
Our major feature this issue actually looks at the UK's pick-up market for our 4×4 Pick-up Of The Year. Now this is probably the best selection of pick-ups that we have ever had in the magazine. They really are the magnificent seven; from the new, bargain basement Great Wall, to the all-singing and regularly dancing Ford Ranger. It was great to be able to get them altogether in one place to compare. As an enthusiastic pick-up owner myself, this was a wonderful few days testing. The results speak for themselves. Of course, if you have specific experience of owning any of the pick-ups tested, especially the newer models, we'd love to hear from you.
Now, about those flights to North America for next summer…

Nigel Fryatt, Editor

To buy your copy of the latest issue of 4×4 Magazine click here