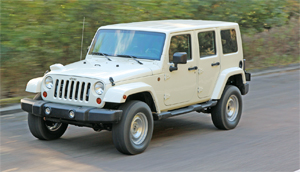 Anyone wanting to equip their 4×4 fleet with the best protection in the world should head to Jankel, where the increasingly popular Jeep J8 is the gold star option for military and also civilian use; and that includes a pick-up version

Words: Hils Everitt Photography: Supplied by Jankel
The Jeep J8 is not a vehicle you are likely to see gracing our highways and byways in the UK. Jeep designed the J8 primarily for those in uniform who work in the harshest environments and terrains, preserving our safety.
You will find various governments and international agencies operating the many versions of J8 all over the world, but there is a tiny corner of England where the J8 is a very important product. Jankel, based in the South East, was established in 1955 and is currently the world leader in the design, testing and mass manufacture of light vehicles, including those based on Toyota Land Cruisers. Improving safety and security of occupants in threatened and vulnerable vehicles is a major part of its work.
Jankel has worked with Jeep Government and Military Sales (JGMS) since 2009 and is the only company with the global distribution rights to the J8. "We were a logical fit with Chrysler for a partnership when JGMS was set up as a separate company," explains Jankel Jeep J8 product manager Mark Mackenzie. "Jeep required a fleet approach for governments to cope with larger volumes and we have been at the forefront with the design and evolution of the J8 products."

Jankel's impeccable pedigree as a specialist engineering firm started when founder Robert Jankel starting modifying Panther sports cars that sold through OEM dealerships. Those and other vehicles were modded for VIPs – a business that soon developed into armouring, albeit for non-military use in those days.
---
CASE STUDY
As an international vehicle conversion specialist, Jankel UK are the UK's leading 4×4 vehicle customisation experts. With contracts with extremely high profile customers; it is vital that Jankel use leading, best quality products, delivered to them on time, to meet tight production deadlines and that they are the correct specification for the detailed and intricate jobs they produce. This is where Jankel rely on Arbil to take some of the strain of its workload in providing these products.
Mark Foster, buyer at Jankel, explains, "We pride ourselves on delivering the best quality service possible to our customers and this starts with the products we use when developing our customised vehicles. We only use the proven and tested leading brands and Arbil can supply these"
Arbil's strong distribution network and knowledge within its organisation has led to it being granted exclusive UK distribution of leading brands ARB® and WARN®. Jankel use Arbil to source its winch, compressor, bull bar, roof rack, rear bumper, side step, recovery equipment and fuel tank needs.
Mark continues, "Our suppliers are based all over the world; managing ordering and shipments from all of these parties is an incredibly time consuming job and also involves several contacts, time zones and currencies. Because we have to meet tight production deadlines we need the correct parts on time and where we expect them – and with all the best intensions, sometimes suppliers still need chasing to ensure this happens. Arbil manage this ordering process for us so we can be left to get on with what we do best: vehicle conversions and delivering the highest customer satisfaction and not be tied up with the logistics' Mark continues,
'One recent example of the service Arbil provided us was an ARB® order. 68 parts were coming from the Middle East to our varying sites within the UK. We needed the correct parts, delivered to the correct sites and all within 10 days. Arbil managed the full process on our behalf and everything went without a hiccup"
Mark now only has one company to deal with and can lean on the individuals within Arbil for their expert advice.
Mark explains, "Now that Arbil fully manage the logistical side of things I can focus on getting in the best possible products for the job. After a close working relation with Arbil for nearly 10 years, I know who will be the best person to approach within the team for any particular query. Their product knowledge is second to none, and not only will they provide solutions for us, but they also actively introduce new product, meaning we can always offer our customers the most innovative products' Mark continues, 'I would definitely recommend Arbil's service. My stress levels have been reduced and the service provided is great value for the minimal charge applied to it'
---

To read the full report see the October 2013 issue of 4×4 Magazine. Buy it here