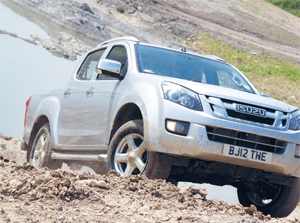 At last we have the long overdue successor to the ageing Isuzu Rodeo. The all-new D-Max, is bigger, butcher and more in line with the extremely tough competition. But can it really become the UK's best seller?
Words: Hils Everitt Photography: Hils Everitt and Isuzu
Paul Tunnicliffe, managing director Isuzu (UK) said at the outset of the D-Max presentation: "Our five-year plan is to be the No 1 pick-up in the UK." A wave of raised eyebrows and tight smiles followed, reacting to the sheer bravado of this statement, and then a look of nodding respect as it sunk in that he really meant it.
To achieve this remarkable feat, Isuzu needs to double sales of its brand new pick-up truck. Sales hit around 2400 in 2011 which isn't setting-the-world-on-fire territory and to double that some serious marketing and distribution improvements need to happen.
But, forgetting all the marketing business, can the all-new D-Max actually live up to this ambition? 'D-Max' is new to the UK, replacing the highly outdated outgoing Rodeo model, but the name has been around internationally for a while; 'Rodeo' was unique to the UK. Looking at the two models together, it was right that the previous generation wasn't called the 'D-Max', as the new, butch, more muscular and imposing stance of the truck suits the rugged and tough 'D-Max' hook far better.
Wider, taller, longer and with an improved loadbed area with better rear seat space and a much more pleasing and modern interior dash layout, the new truck has finally entered the 21st century. It's all new, every little bit of it, and suits an in-yer-face bulging nose with more imposing headlight design and a more rugged grille arrangement. The doors are humongous, compared to the Rodeo, and feel solid and durable. This is not a 'lifestyle' truck – a genre that was introduced with the Nissan Navara and Mitsubishi L200 in the late '90s. The D-Max is aimed at the working man and it does what it says on that proverbial tin.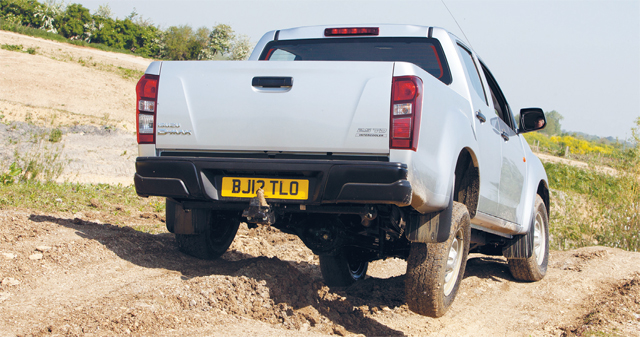 Isuzu's pick-up buyers are traditionally farmers and those working in construction and forestry who want a reliable, economical-to-run and long-serving pick-up. Of course, there is need these days for some comfort, so the top spec gives you auto climate control, leather heated seats with electrical adjustments and there is now an auto option available as opposed to the new six-speed manual gearbox.

To read the full report, including tech spec, see the August 2012 issue of 4×4 Magazine. Buy the issue or subscribe here